William Logan, ex-Royal Black Institution leader, dies aged 86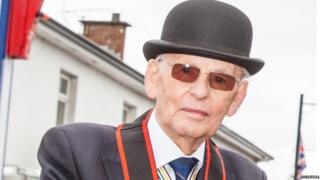 A leading member of the loyal orders who took part in an historic first meeting with the head of the Catholic Church in Ireland has died.
William Logan, who led the Royal Black Institution, met Archbishop Sean Brady in Armagh in June 2006 along with members of the Orange Order.
He described the primate as "a man of very great integrity".
Mr Logan, 86, was sovereign grand master of the institution from 1998 to 2008.
He died on Thursday following a short illness.
The organisation's current leader, Millar Farr, said Mr Logan was "a typical shipyard man, forthright in his views but always approachable, respectful and amicable towards others".
"His Christian ethos and selflessness were central to his role as peacemaker," Mr Farr added.