Daisy Hill Hospital: Three-day wait for hospital admission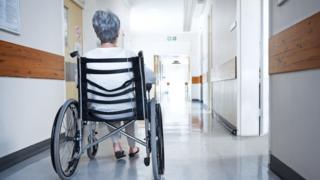 A 79-year-old woman with pneumonia had to wait almost three days to be admitted to a hospital ward.
The pensioner was picked up by ambulance on Saturday evening and taken to the Emergency Department of Daisy Hill Hospital in Newry.
She was taken to a ward 67 hours later - at 13:30 GMT on Tuesday. Her family said the ordeal was "horrendous".
The Southern Health Trust says the length of time was unacceptable and have apologised.
'Unacceptable'
The woman's family blamed the situation on a lack of government.
They said at some stage during the night, the pensioner was moved to a bed in a busy side area.
In a statement to the BBC they said their anger was "in no way" directed at the staff.
"Our anger is in no way directed at the hospital staff, but instead at Stormont.
"This crisis is a direct result of our lack of government and we would urge all politicians to get a government running again as soon as possible."
The Commissioner for Older People has described the case as unacceptable.
'Relentless onslaught'
Eddie Lynch said he is concerned about the standard of care some older people are receiving in very difficult circumstances.
"It's completely unacceptable that somebody has to wait almost three days to be admitted with a condition like pneumonia and I think we all have to learn lessons from this," he said.
One paramedic, who asked for his identity to be protected, told the BBC morale was at "rock bottom".
"It's so busy. The last couple of weeks have just been a relentless onslaught. We are all flat out, tired and stressed.
"There's normally a queue of patients already lying on trolleys and as the paramedic you can't leave until you've done a handover.
"While it's not our fault many of us do feel that we are letting people down."
In order to address the excessive handover times health trusts are having to employ independent ambulance companies to manage patients being dropped off.
In a statement the Northern Ireland Ambulance Service said it was grateful to all its staff.
It also confirmed that in times of significant pressure it employs the service of several independent companies.