Stormont: Fresh NI devolution talks announced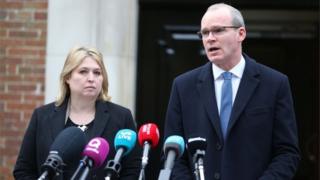 A fresh round of talks aimed at restoring devolution in Northern Ireland has been announced by the Northern Ireland secretary.
Talks involving all five main parties will begin next Wednesday, 24 January.
Karen Bradley, who was appointed last week, was flanked by the Tánaiste (Irish deputy prime minister) Simon Coveney as she made the announcement.
Mr Coveney said progress must be made in "weeks rather than months".
Mrs Bradley said "time is short" but there was one last opportunity to restore the Stormont executive.
She said she believed an agreement was possible and that it was vital that all parties are involved.
The talks will be short and intense and "progress must be swift", she added.
"The gaps are narrow but there are still significant differences to overcome."
Mr Coveney said all parties had a responsibility to restore devolution, adding that the Irish government would spare no effort to do so.
'Build on progress'
Significant progress had been made during previous rounds of talks, he said, suggesting an agreement was possible.
Discussions between the DUP and Sinn Féin ground to a halt in October.
Sinn Féin's northern leader Michelle O'Neill said her party was willing to take part in the talks, adding it should be a "short, sharp process".
The DUP's Simon Hamilton said he believed new talks would help the parties "build on progress that has been built to date".
He added: "While I am reluctant to talk about deadlines, it is more than apparent that time is short."
'All inclusive process'
Last week, the UUP, SDLP and Alliance Party urged a quick resumption of talks to re-establish a power-sharing government in Northern Ireland.
Speaking to BBC Good Morning Ulster, Ulster Unionist leader Robin Swann welcomed the suggestion to include all five parties.
He said part of the difficulty in making progress was that it has been "a two-party process since June".
Mr Swann reiterated his party's opposition to an Irish language act, one of the main sticking points in the talks.
He said Sinn Féin had to be "realistic" if it wanted to a part of the solution, saying its red lines were holding up the process.
'Publish progress'
Alliance party leader Naomi Long gave a cautious welcome to the announcement of new talks but reiterated they need to be all-party with an independent mediator if they were to have any possibility of success.
"We not only need a change of pace in these talks but a marked change in attitude from the two largest parties, if we are to see the Assembly restored," she said.
"The appointment of an independent facilitator would be another significant step forward and we are disappointed that has not yet happened."
While the leader of the SDLP, Colum Eastwood, welcomed a new round of talks, he said his party "will not negotiate blind".
"The progress that was made between the DUP and Sinn Féin, that we were all told about, needs to be published so the public and other parties can see how far they've got," he said.
"We're coming at this with a will to solve the problems, and we'll see if anyone else is up to the challenge."
Northern Ireland has been without an executive since last January, when the DUP and Sinn Féin's power-sharing government broke down in a bitter row.
The two parties have failed to find a resolution in spite of several rounds of talks.