Belfast 'set to keep four MPs'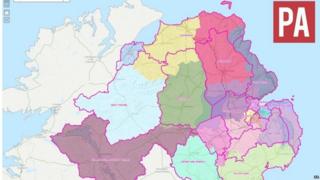 A plan to redraw electoral boundaries in NI has been significantly altered to retain four parliamentary seats in Belfast, according to an official map.
In 2016, the Boundary Commission issued proposals that would have seen the city's four seats cut to three.
A map titled "2018 revised proposals" appeared briefly on the commission's website this week.
The commission said the map went live temporarily during a test exercise, the Press Association reported.
'Heavily criticised'
Northern Ireland is set to lose one constituency, from 18 to 17, as part of a wider move to cut the number of seats across the UK from 650 from 600.
The 2016 proposals were heavily criticised by the DUP, which currently holds three of the Belfast seats.
At the time, political commentators suggested it could result in the party losing a seat to Sinn Féin.
The map also indicates considerable changes to the 2016 proposals for six new constituencies outside Belfast - all of the new constituencies are gone.
Some of the changes envisaged by the Boundary Commission map:
The creation of a Causeway constituency on the north coast
The remainder of North Antrim is renamed Mid Antrim and takes in parts of East Antrim and South Antrim
A portion of Lagan Valley merges with a section of Strangford, and a small part of South Down, to become Mid Down
The remaining chunk of the Strangford constituency is absorbed into North Down
Fermanagh and South Tyrone remains largely unchanged
"During the preparation for our revised proposal consultation, which begins on 30 January 2018, the functionality of the website was being tested including the interactive map facility," a Boundary Commission for Northern Ireland spokesman told PA.
"The interactive map facility was accessed during this testing phase. The commission will be proceeding with the revised consultation on 30 January as planned."
The proposal to cut the number of seats across the UK originated during David Cameron's premiership, and may never come to fruition if it faces sufficient political opposition.