Spray painting a millionaire party planner's mansion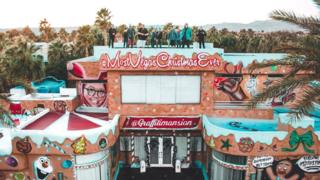 "I'd like you to come to Vegas and spray paint my mansion... in two days' time."
That was the message received by a Belfast street artist who had been summoned to paint a Las Vegas Mansion.
Dean Kane had never before met or even heard of his new client - a millionaire party planner called Armani - but two days later he was on a flight to Vegas.
"I arrived there, met the guy for the first time in my life and he explained everything that was going down," said Dean.
"I was to be there for a week and we were going to paint the mansion as a giant gingerbread house.
"When I got there, there was a bunch of other artists from all over the world.
"It was just a real melting pot of people which was brilliant because we were all artists, so we all spoke that universal language of art."
A flamboyant character
With tigers and zebras as pets, and a Ferrari as transport, Armani is a flamboyant character.
He had simply trawled the internet for graffiti artists whose work he liked the look of and flew them to Vegas from wherever they happened to be at that time.
"You have to really meet this guy to understand," said Dean. "If he sees something and he wants it, he gets it.
"The house - I don't know how many millions it's worth - but it is huge. For three days I was constantly getting lost.
"I just couldn't find my way round it. I had to ring people on the intercom to ask which room I was in and where I was needed."
Dean said he had "a blast" painting the house.
"I was on the fight from Dublin to Newark and then I had to catch a connecting flight to Vegas, and I stopped and thought 'what am I doing?'; it was kind of a reality check," he said.
"But then I thought 'you know what; it's a week.
"I'll just go, have a laugh, meet some interesting people. And that's what I did. We painted a mansion.
"It's a bit like becoming a street artist; I left my full time job and thought 'OK, I'm going to become a full-time street artist.
"I didn't really give that two thoughts so I reckoned why start thinking cautiously now and I just went for it."
It wasn't the first time Armani had his house spray-painted.
And Dean's work, as well as that of his fellow artists, has already been whitewashed over - just a few weeks later.
Today, the mansion is once again a blank canvas - waiting for another new theme.