Omagh bomb widower willing to contest West Tyrone poll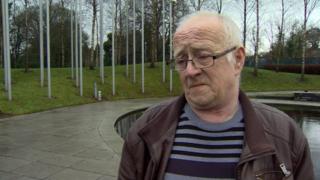 A man whose wife was killed in the Omagh bomb said he would be willing to stand against Sinn Féin in a by-election in West Tyrone.
The Sinn Féin MP for the constituency, Barry McElduff, stepped down on Monday after posting a controversial video on Twitter.
Kevin Skelton said he would attract support from "right across the political divide".
Mena Skelton, 49, was one of 29 people killed in the 1998 Real IRA bombing.
The victims of the attack included a woman pregnant with twins.
It was the single worst atrocity in 30 years of violence in Northern Ireland.
Mr Skelton said if he were elected he would be a voice for victims.
He told BBC News NI: "I would love to stand.
"I would like to think I would get support from the victims' sector, but I think I would get support from right across the political divide."
No date has been set for the by-election.
The Ulster Unionist Party said it would support a unionist unity candidate in the area, but the Democratic Unionist Party is yet to make its strategy public.