NI weekly paper review: Mistaken identity; law's long arm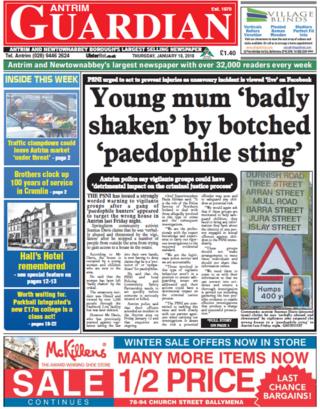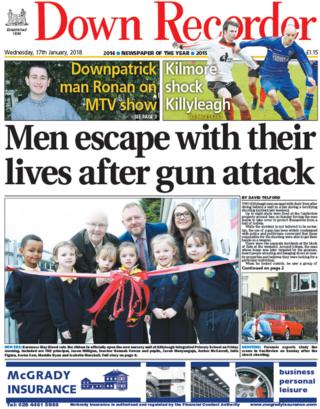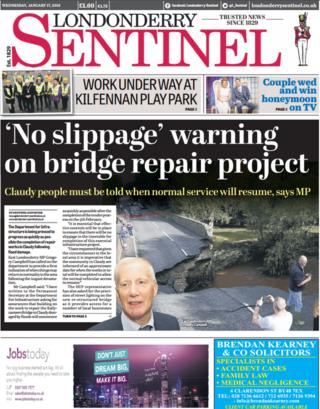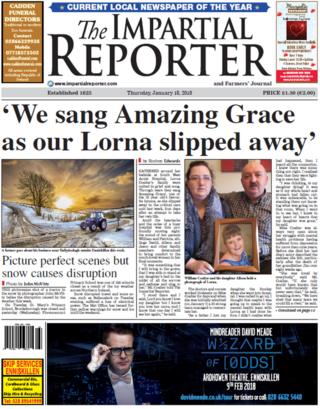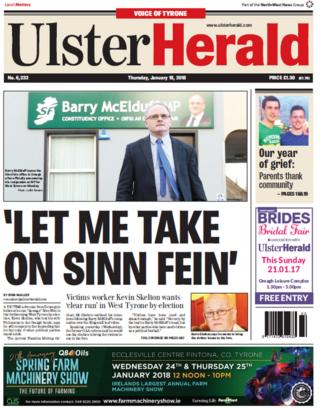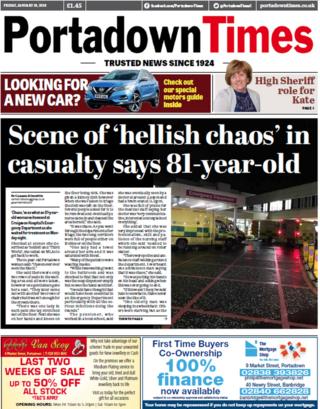 A dangerous case of mistaken identity, a "hellish" night in A&E and some very shady recycling are among the stories lighting up this week's local papers.
A warning about the tactics of online "paedophile hunter" groups makes the front page of the Antrim Guardian.
A gang of vigilantes is believed to have targeted the wrong house in the town in a "botched paedophile sting".
The paper reports that a young mother, who recently moved into the area with her children, was left "badly shaken" when the gang arrived outside her home.
A local community activist tells the paper the gang "verbally abused and threatened" him when he intervened.
'Baffling'
The confrontation was broadcast live on Facebook and was viewed by more than 1,000 people before it was deleted.
The police repeated their warning that vigilante-style groups "aren't in a position to ensure safeguarding issues" and could jeopardise criminal investigations.
Inside, the Guardian reports that Antrim's historic market is under threat by a decision to "suddenly enforce" existing parking regulations.
The Market Square site began selling goods in 1665 and "has been part of the fabric of this town for centuries", according to Antrim councillor Neil Kelly.
He objects to a plan which will see traffic wardens clamping down on shoppers who park their cars in a restricted area where up until now a "blind eye" has been turned.
Mr Kelly described the move as "baffling" and says it would be "real shame" if the market died out because of the clampdown.
'Hail of bullets'
A terrifying gun attack in Killyleagh, County Down makes the front page of the Down Recorder.
It says two men escaped with their lives by diving behind a wall as a "hail of bullets" was fired into a flat in the Castleview estate last weekend.
One of the victims is a relative of DUP councillor Billy Walker, who told the paper he has no idea why his home was targeted.
"We could have been looking at a murder investigation if my relative and his neighbour had not taken evasive action," Mr Walker said.
Across the lough from Killyleagh, there is great excitement in Strangford which has made the shortlist for Channel 4's Village of the Year title.
Moment in the sun
The north Down beauty spot has been selected from among 450 UK entries to take part in the new TV series which began broadcasting earlier this week.
Strangford resident Jennifer O'Reilly submitted the bid 15 minutes before the deadline and says win or lose, the exposure is a "great publicity boost" for her village.
Actress Penelope Keith, of the Good Life fame, presents the show and Strangford's moment in the sun will be broadcast on 1 February.
On the subject of the Good Life, the future of a Londonderry community allotment scheme is in doubt due to fears over possible contamination.
The allotments are based in Maydown Industrial Estate and are used for recreation by people of all ages, according to the Londonderry Sentinel.
However, the Environmental Health Service has raised concerns about the safety of growing food on industrial land which previously housed a factory and a gravel pit.
It has recommended that a "contaminated land risk assessment" is carried out before councillors vote on a planning application to retain the allotments.
Sinn Féin's Patricia Logue said councillors must be confident that they do not grant permission for "something that is going to be detrimental to people's health".
A bridge too far
The paper leads with the long-running saga of Ballynameen Bridge in Claudy, which dramatically collapsed during flash floods last summer.
DUP MP Gregory Campbell called on the Department of Infrastructure to provide a firm indication of when repair work will start and finish.
A spokesperson for the department replied that the tender process is still ongoing, but it is expected that work will begin around March.
They estimate the £700,000 repair will take five months to complete, meaning the bridge should be fixed around August - a year on from the collapse.
'Lying in a ditch'
Rural infrastructure problems are also making headlines in County Fermanagh, with complaints over broadband services in the townland of Manoo.
"Our broadband is lying in a ditch, held together by insulating tape," disgruntled resident Neville Armstrong tells the Impartial Reporter.
Mr Armstrong is photographed pointing to the offending broadband cable, which is strangely attached to a roadside hedge.
A BT spokesperson tells the paper a "third party" damaged an underground cable in the roadside verge and its engineers worked from dawn til dusk until it was repaired.
The damage left 41 customers without access to telephone or broadband services for three days, but BT said all 41 faults have since been fixed.
The Impartial Reporter leads with a family's painful farewell to a 32-year-old woman who died in hospital days after trying to take her own life.
Lorna Coalter's heartbroken father tells the paper she had attempted to kill herself once before and he calls for more support for people at risk of suicide.
The Tyrone papers concentrate on the forthcoming Westminster by-election to replace Sinn Féin's Barry McElduff, as West Tyrone MP.
He resigned over a video of him posing with a Kingsmill loaf on his head, which he tweeted on the anniversary of the IRA attack at Kingsmills.
The Ulster Herald leads with an interview with Omagh bomb widower Kevin Skelton, who wants to "take on Sinn Féin" at the ballot box.
The victims' campaigner says he will only enter the contest if other parties step aside and give him a "straight run" against Sinn Féin.
The paper says Mr McElduff recorded Sinn Féin's "best ever electoral result" last year and taking the seat would require "an unlikely collapse in its vote".
There is a bumpy ride ahead for motorists driving into a housing estate in Omagh.
The entrance to O'Kane Park has been compared to a "patchwork quilt" due to the number of potholes and patched repairs to the road.
"Drivers coming into this park are having to swerve to avoid the potholes," elderly resident James O'Kane tells the Ulster Herald.
The paper says motorists are also being forced to take "evasive action" on the main Omagh to Cookstown road because of the growing number of potholes.
Vomiting into a dish
This week's Portadown Times leads with a pensioner's graphic account of the "hellish chaos" in Craigavon Area Hospital's emergency department on Monday night.
The 81-year-old woman, who was waiting for a brain scan, described witnessing one distressed patient on her knees on the floor of the waiting room, vomiting into a dish.
She passed two long corridors "full of people either on trolleys or on the floor" and one of the waiting patients had a towel "saturated in blood" around her arm.
The feisty pensioner tells the paper that Northern Ireland's MLAs should be sent into the hospitals to work, so they could see the problems patients and staff are facing.
"It is ridiculous that they have been paid a year's salary and done nothing," the woman fumed.
"It is time someone with common sense took over and got something done."
Unflushed with success
The paper also reports that the long arm of the law is reaching into some very unpleasant places in County Armagh.
In a Facebook post, the PSNI in Craigavon shared some of its more colourful house search experiences.
The force's "moment of the week" was recovering a suspect's mobile phone from the one place he thought they wouldn't venture - his toilet bowl, which officers described as "No 2 unflushed".
The eagle-eyed house search officers also spotted an unusual take on household recycling - a lampshade fashioned from an empty bottle of Buckfast.
They have crowned the shady object as the "interior design feature of 2018".
Other tonic wines and lighting accessories are available.