Dolores O'Riordan: IRA bomb victim's father pays tribute to Cranberries star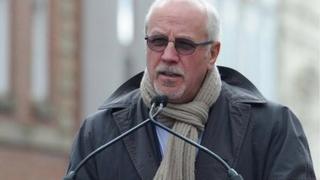 The father of one of the Warrington bomb victims has paid tribute to the Irish musician, Dolores O'Riordan.
The lead singer of The Cranberries died on Monday, aged 46.
Colin Parry's 12-year-old son, Tim, was killed alongside three-year-old, Johnathan Ball, in 1993 when two IRA bombs detonated in Cheshire.
The Cranberries recorded the single Zombie in 1994 in memory of the two boys.
Mr Parry told BBC's Good Morning Ulster programme he had been touched by the lyrics but had not known their significance until after the singer's death.
"Only yesterday did I discover that her group, or she herself, had composed the song in memory of the event in Warrington," he said.
"I was completely unaware what it was about.
"My wife came home from the police centre where she worked yesterday and told me the news.
"I got the song up on my laptop, watched the band singing, saw Dolores and listened to the words.
Some lyrics from the 1994 single 'Zombie'
Another head hangs lowly
Child is slowly taken
And the violence, caused such silence
Who are we mistaken?
But you see, it's not me
It's not my family
In your head, in your head, they are fighting
With their tanks, and their bombs
And their bombs, and their guns
In your head, in your head they are crying
'Powerful'
"The words are both majestic and also very real.
"The event at Warrington, like the many events that happened all over Ireland and Great Britain, affected families in a very real way and many people have become immune to the pain and suffering that so many people experienced during that armed campaign.
"To read the words written by an Irish band in such compelling way was very, very powerful.
"I likened it to the enormous amount of mail expressing huge sympathy that we received in the days, weeks and months following our loss.
"Proportionately a very high total of that total came from the island of Ireland," he said.
"It was a shock that a lady so young should die so unexpectedly," he added.
The musician from Limerick, led the band to international success in the 90s.
A statement from her publicist said: "The lead singer with the Irish band The Cranberries was in London for a short recording session.
"No further details are available at this time."
A Metropolitan Police spokesperson said the police were called to a hotel in Park Lane at 09:05 GMT on Monday, where "a woman in her mid-40s" was pronounced dead at the scene.
Police are not treating the death as suspicious.