Atlantic challenge: Portrush crew conquers the ocean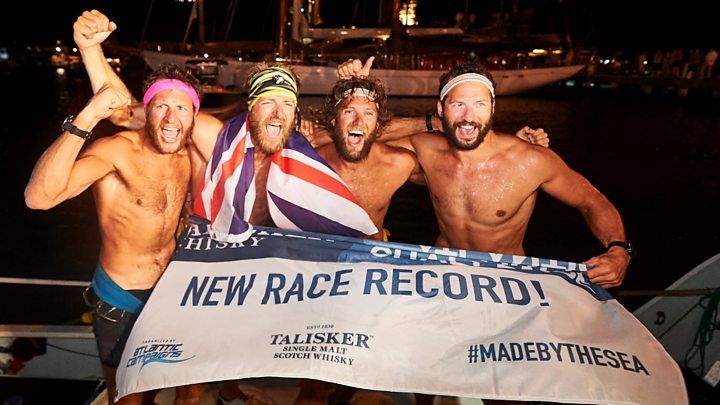 You might think that capsizing three times, never mind facing 12m waves, might be enough to put you off trying to row across the Atlantic, but not so for members of a County Antrim rowing team.
The Home to Portrush team rowed from the Canary Islands to Antigua in 31 days, 8 hours and 57 minutes.
The Causeway Coast men have become the fastest Northern Irish team to row across the Atlantic.
On the way, they encountered whales and sharks, lost a set of oars overboard, and the dagger board under their boat snapped off.
Luke Baker told BBC News NI it was "a test of mental and physical robustness".
Luke and his colleagues, George McAlpin, Alistair Cooper and Gareth Barton rowed more than 3,000 miles in an exhausting shift pattern of two hours on, two hours off.
Nappy cream
He said that sheer exhaustion led to the crew suffering from hallucinations with one of his crewmates seeing a pixie trying to offer him a bunch of bananas.
Luke described the extreme discomfort caused by the salt water and constant rowing.
"We were rubbing nappy rash cream on our bums six times a day," he said.
They finished fifth overall in the Talisker Whisky Atlantic Challenge, which was won by a team called The Oarsmen in a world record time of 29 days and 15 hours.
Twenty-one teams have been taking part in the event, dubbed "The World's Toughest Row", including Irish competitors the aptly-named Team Relentless.
Each rower burns around 8,000 calories a day and loses approximately 20% of their body weight over the duration of the race.
Brutal seas
Four teams were forced to quit due to brutal sea conditions, capsize or seasickness.
Skipper George McAlpin said there were scary moments.
"It was nothing like we expected - we knew there would be big waves and strong winds but nothing like we could have imagined," he said.
The team overcame the challenges by quite literally pulling together to overcome everything the sea threw at them.
"We had some odd hallucinations as a result of sleep deprivation, where Gareth had an entire conversation with a lifejacket, and I struggled with some dental issues," George said.
Whales, sharks and dolphins
Rowing across an ocean brings you face-to-face with some spectacular creatures of the deep. The Home to Portrush rowers encountered three species of whale, two types of shark and numerous dolphins and porpoises.
The crew missed out on Christmas with their families to undertake this adventure of a lifetime.
Luke Baker said the felt "absolutely amazing - total elation".
Unwilling to hint at future adventures, for the time being he said he was "just chilled".