Carillion confirms NI staff will be paid, says union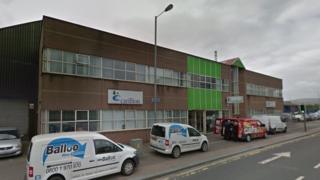 Workers in Northern Ireland who are employed by the collapsed construction firm, Carillion, have been told they will still be paid, their union has said.
The liquidation of the UK's second biggest construction company is threatening thousands of jobs.
It is estimated it employs about 500 people in Northern Ireland.
The union GMB said Carillion has confirmed that staff will receive their pay until the end of January.
Michael Mulholland, of GMB, said he hoped that the firm's Northern Ireland employees will be transferred to other work providers.
"Carillion management contacted us first thing this morning and we expect further engagement over coming weeks," he said.
The firm has three major contracts with the Northern Ireland Housing Executive (NIHE) for home maintenance and gas installation.
The company also does work for Power NI, the electricity supply company, which said it is "working through the implications" of Carillion's failure.
Contracts worth £35m
Carillion suffered financial losses on a number of large contracts and is going into liquidation with debts of £1.5bn, £600m of which is pension deficit.
Its housing maintenance contracts in Northern Ireland apply to properties in north County Down, including the Newtownards area and also south and east Belfast.
The contracts for that work and the gas installations are worth an estimated £35m a year.
It is understood that the NIHE has contingency plans to move those contracts to new providers.
It has well-rehearsed procedures in place so it is expected that there will be minimal disruption while the work is transferred to other companies.
It said its priority was to ensure "continuity of our repair and heating services for tenants".
"Unfortunately, there may be some disruption to routine services in forthcoming days," a spokesman added.
About half of Carillion's Northern Ireland staff work on NIHE contracts.
The Unite trade union is calling on the organisation to directly employ those workers.
The company has 43,000 staff worldwide, 20,000 of whom are in the UK and it is not clear yet how they will be affected.
In the UK, there are 28,000 members spread across 13 Carillion pension schemes.
They will be transferred to the Pension Protection Fund, which helps to compensate pension scheme members when their employer cannot meet its financial obligations.