Fire Service warning after men rescued from car roof in Draperstown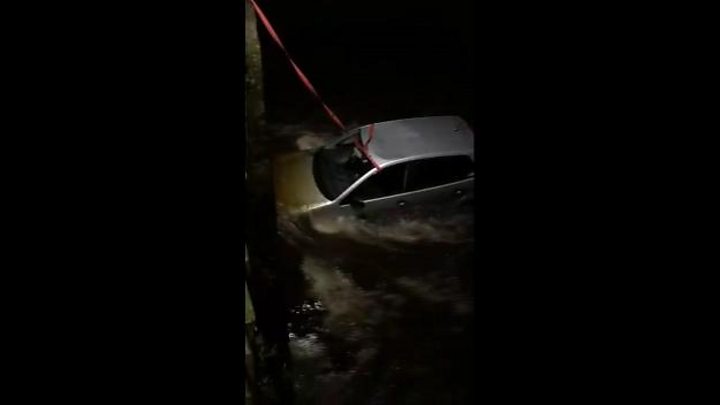 A fire service group commander has warned of the dangers of flowing water after two men were rescued from the roof of their car in County Londonderry.
The men were using a sat nav on Saturday evening that took them along the Mulnavoo Road in Draperstown and required crossing a ford.
Water levels were higher than expected and the car was carried for 20 metres.
The NI Fire Service said it was "a tricky rescue".
Geoff Somerville, a group commander with the Northern Ireland Fire and Rescue Service (NIFRS), said the incident was a "stark reminder" of the dangers of crossing a ford.
"A very small amount of water is enough to sweep a car away," he told BBC Radio Ulster's The Sunday News.
"We would say avoid any water that is more than 10 centimetres deep because a foot of flowing water is enough to sweep a car away.
"The car is effectively like a big floating box and it will sweep away in below the river."
Mr Somerville said the car came to a halt behind a footbridge that crosses the road.
Firefighters used lines to secure the car and put a ladder in place from an adjacent footbridge to enable the rescue of the two men.
"The water was higher than the sill of the car when it was initially swept away - their car ended up in fast-flowing water about one metre deep," he added.
"The men managed to climb out of the car get on to the roof of the car.
"They phoned for help and thankfully within 20 minutes of them making that call they were rescued by the local fire crews who attended.
"All credit goes to them in preventing this in becoming a more serious incident."