Former monk Vincent Lewis sexually abused boys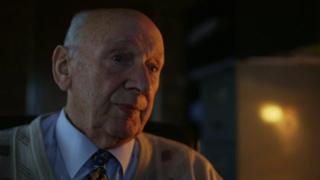 An 89-year-old former monk has been told he faces "significant" sentences for sexually abusing three boys in the early 1970s and 1980s.
Vincent Lewis, formerly Brother Ambrose at Our Lady of Bethlehem Monastery in Portglenone, pleaded guilty to 57 sex offences involving three boys.
The offences happened over a 10-year period up to 1983.
Antrim Crown Court heard Lewis abused one boy while a monk in the County Antrim priory he joined when he was 16.
He then sexually abused two brothers after leaving the monastery when he was 50 and later marrying.
The judge, who adjourned sentence until next week, said Lewis who also once appeared on a dancing programme for BBC's 'True North' series, faced "significant custodial sentences despite his age".
'Here to look after you'
Earlier, a prosecutor revealed that Lewis', as Brother Ambrose, began the abuse when his first victim was aged 10. The child did odd jobs around the abbey.
The abuse took place both within the abbey buildings, including a guesthouse for those on retreat, and also around the extensive grounds.
He said Brother Ambrose told the child his parents said he had been "bad, but I am here to look after you" before abusing him, and that what he was doing to him "was right".
The monk, who on occasions plied his victim with alcohol, would also give him his 'wage packet' for the odd jobs he did, telling him, "there's a wee bit extra in there". The abuse ended when the boy was 15.
The court also heard that the victim, paid an out-of-court settlement in 2000 for the abuse he suffered, eventually went to police after learning that the former monk was not as incapacitated as he had been told.
Brothers abused
The prosecutor said Lewis' second victim was a teenager whom he once tried to abuse on the shores of Lough Neagh after a swim.
The third was that boy's younger brother, indecently assaulted and abused over a four-year period from the age of nine.
The lawyer said that when eventually questioned by the police, Lewis denied even knowing his first victim, or speaking to him. He then gave 'no comment' interviews when asked about the two brothers.
A defence lawyer said Lewis, married for 40 years, said all of his offending behaviour "finished in its entirety 35 year ago and there has been no other occurrence".