Contractor set for new South West College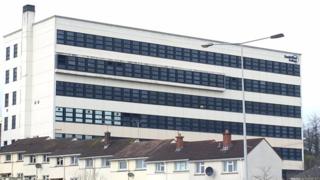 A contractor has been appointed for the new campus of the South West College in Enniskillen.
The college is set to move from its current site at Gaol Square to a new £29m building at the former hospital site on Cornagrade Road.
Construction is expected to get under way around Easter.
The new building will incorporate the newest standards of environmental technology and is expected to generate more electricity than it actually uses.
The site will also include the old workhouse building.
It is being converted into business incubation units, as well as a space to remember the history of the workhouse in Enniskillen.
The contractors, Tracey Bros, say the project is a boost for the construction industry in Fermanagh.
The building is due to be completed in January 2020.
Michael McAlister, chief executive of the South West College, said it was "on the cusp of an exciting new era".
"South West College is delighted to have reached this milestone event in the college's history," he said.
"Students, parents and employers alike will all see huge opportunities emanate from the new development and we look forward to sharing the college's journey."