Fermanagh teen Dara McAnulty wins award for nature blog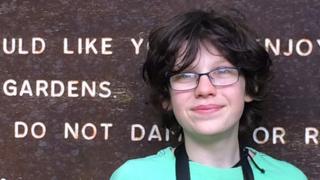 A teenager from County Fermanagh has won runner-up in the BBC Wildlife Magazine Blogger Awards.
Dara McAnulty, 13, won the award for his 'Young Fermanagh Naturalist' blog in the 'Local Patch Reporters' category.
Dara's blog focuses on wildlife and the environment, both locally and internationally, and also helps him live with Asperger's Syndrome.
Competition judge, and television presenter, Miranda Krestovnikoff said: "The maturity... is astonishing and his honesty about how nature has held him coping with Asperger's is humbling.
"I love his energy and focus in all things environmental and conservation".
Pride
Dara said he was quite surprised by his achievement and said he was proud that people have seen his blog and liked it.
"I am writing that young people, especially, will read the blog and they'll get interested in nature.
"It makes me feel better that more and more people out there are actually caring about nature.
"I also feel proud that Fermanagh gets a bit more attention," added the young man, with a deep affinity to his local area.
Dara's mother, Róisín, explained that he is quite humble but that she was very proud of him.
"He does what he does and expects nothing in return," she said.
However, given his young age, she works hard to make sure he does not get too involved in his passion.
"A lot of people ask him to do a lot of things... my job is to protect him from getting overwhelmed."
Incredibly, it was the second award in two weeks for the Erne Integrated College pupil, as he has also recently won a Birdwatch magazine 'Local Hero Award'.
The latest awards certainly have not come out of the blue. In June 2017, the young naturalist was awarded the BBC Springwatch Unsprung Wildlife 'Hero Award'.
His 'Young Fermanagh Naturalist' blog won the youth category for the Wildlife Trusts '30 Days Wild 2017' campaign and also won conservation group A Focus on Nature' 'Best blog of 2016' competition.
And, a proud member of the scouts, Dara was awarded the Chief Scout Award in July 2017, for service to environmental work.
Dara lives with Asperger's syndrome, a type of autism. It has an impact on the way in which someone interprets their environment.
"I was 'diagnosed' with Asperger's when I was five," he said.
"Life was isolated and difficult... but I continued to learn, write, photograph and feel joy in doing heartfelt things," he wrote on his blog.
"People say 'obsession' but that is a separate thing, nature was as big a part of me as my own heartbeat."
The young man has featured on both radio and television, overcoming fear and anxiety to record two BBC Radio 4 'Tweet of the Day' programmes - one to raise awareness of the persecuted hen harrier and another on whooper swans.
Dara began blogging in 2016, three years after his family moved to Fermanagh from Belfast, a place with which he instantly felt a connection.
"The volume was turned down enough to hear things and we discovered quiet places, alive with wildlife," he said.
"I loved this place, every place we went to. My mind wasn't screaming constantly and thoughts and words started to spill out.
"One day, I thought people might like to hear my thoughts, but, mostly, I wanted to have a journal of sorts, where all my collection of days and moments could be in one place.
"A place where I could express myself and feel a freedom to 'speak', a freedom which life couldn't quite give me, in real time."
The blog has become "incredibly important" to Dara but it is not just about personal expression - he wants to educate others.
"I want people to know though, that those who are autistic or have Asperger's can achieve things - in a nurtured environment, in a society where acceptance and not tolerance, is the norm.
"People don't realise how hard people who are autistic try, how much we have to keep at bay, process, faze out.
"The excruciating pain of trying to control our out-of-control brains; to do 'difficult' things, things which will hopefully in the future, help others to follow hopes and dreams."
Dara also volunteers with wildlife organisations such as the Red Squirrel Group and the Northern Ireland Raptor Study Group, and this helps him to overcome his anxieties.
One blog explains that the first time he organised a wildlife awareness display he had to breathe into a paper bag to stay calm, but he saw the project through.
The activity he is most proud of is raising more than £4,000 for satellite tags for birds of prey as the result of an idea he "shyly presented" to the Northern Ireland Raptor Study Group.
When he leaves school, Dara says he would like to become a zoologist or a physicist.
We have not heard the last of Dara McAnulty, naturalist and writer.