Civil Service boss in plea for restoration of NI devolution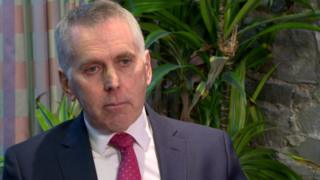 The head of the Northern Ireland Civil Service has said he "fervently" wants local ministers back in place to take decisions as soon as possible.
David Sterling warned that civil servants are finding it increasingly difficult to run public services without being able to plan ahead.
NI has been without a government since the executive collapsed a year ago.
With no ministers in place, civil servants have been making the day-to-day calls on running public services.
In a rare interview, Mr Sterling said Northern Ireland's finances are about to reach a "crunch point" and a new budget is urgently needed.
It is the first time a senior civil servant has spoken publicly about having to run Northern Ireland in the absence of devolution at Stormont, or direct rule from Westminster.
Mr Sterling said he "never believed we would be able to survive this long" , but across the public sector there was work to be done that required ministerial approval.
He explained that with no budget in place for the start of the new financial year in April it was very difficult for senior civil servants to plan ahead.
"Really, we cannot go much beyond the beginning of February without clarity about how much departments and various public bodies are going to have to spend next year," Mr Sterling said.
Asked what would happen if there was no budget, Mr Sterling said it would be very difficult, pointing to the present difficulties in the health service as an example.
"We have a clear need to transform the health service, we have a clear understanding of what is actually needed to do that. What we need are just some of those key decisions to allow us to go ahead," he said.
Analysis:
After 40 years working for politicians, David Sterling suddenly finds himself taking their place.
He is head of the Civil Service in Belfast at a time when there is no devolution - or direct rule - so he has the job of running Northern Ireland's public services.
He needs a budget by early February. Either local ministers come back soon, or it will have to be set by Westminster.
As often happens in politics, the crunch issue is money - Mr Sterling needs sterling.
Mr Sterling said he wanted to applaud his 23,000 staff for their resilience and professionalism.
He added that if there was no executive in place "then someone will have to take responsibility for putting that budget in place so that we can continue to deliver public services."
"Speaking on behalf of the whole civil service, we fervently want a functioning local executive back, we need our ministers back.
"We're part of this place, we're part of this society and it's important to us that we have our own people making these big decisions."