Drink-driving: 357 arrests in PSNI winter crackdown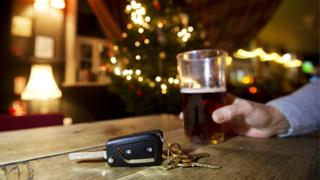 The PSNI's winter crackdown on drink-driving resulted in 357 arrests last month.
This represents 48 more than during the same period a year earlier.
More than 13,000 motorists were breathalysed from 1 December to 1 January, which is an increase of 16% on the number tested the year before.
Insp Rosie Leech said one person was detected at nearly four times the drink-drive limit.
She added: "It's disappointing that despite our continued warnings, that a minority of people completely disregarded the safety of themselves and others by continuing this shameful and incredibly dangerous practice."