NI Paper Review: Suspended MP and a second EU referendum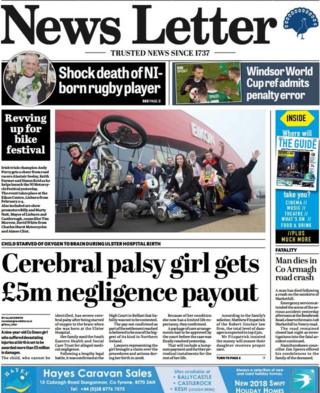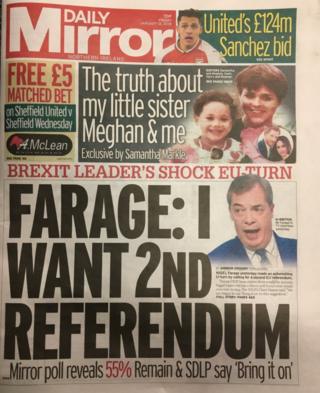 The Kingsmills video controversy, politicians seeking alternative work and calls for a second Brexit referendum all make the headlines.
The Irish News reports that a Sinn Féin MP is continuing constituency work even though he has been suspended for three months.
The paper reports that Barry McElduff is still working from his Omagh office.
His suspension comes after he posted a video online on the 42nd anniversary of the Kingsmills massacre.
In the video, which sparked widespread condemnation, Mr McElduff was seen with a loaf of Kingsmill bread on his head.
Ten Protestants were killed in the atrocity by the IRA.
The MP for West Tyrone has since removed the tweet and apologised for any offence cause.
The paper reports that while Mr McElduff has accepted his suspension, he intends to continue his work as an MP.
DUP MP Nigel Dodds told the paper that Mr McElduff's actions were part of a "wider attitude of disrespect towards the victims of terrorism".
'Wrong message'
DUP MLA, Edwin Poots, has faced criticism after claiming he and other MLAs are considering leaving politics unless the executive is restored.
According to the News Letter, politicians from other parties have called his comments, "unhelpful" and "send out the wrong message".
On Thursday, Mr Poots told the BBC: "I think it's something most wise politicians would be looking at now that the future is uncertain."
His comments come a year after devolved government collapsed in Northern Ireland in January 2017.
Ulster Unionist Robbie Butler told the News Letter Mr Poots' comments sounded "like an admission of defeat".
"What people need is hope that the crisis at Stormont can be overcome," he added.
EU Referendum II?
The Daily Mirror reports that the SDLP has welcomed calls by Nigel Farage for a second EU referendum.
The former UKIP leader told Channel 5's The Wright Stuff a fresh vote could "kill off" the Remain campaign for a generation.
He was one of the leading figures in the Leave campaign, which won the Brexit referendum with 51.9% of votes in June 2016.
SDLP MLA Claire Hanna said: "The will of the people should not have been limited to one vote on June 23, 2016.
"The SDLP were the only local party to register to campaign to Remain in Europe, and will keep leading that debate in the event of any future referendum," she added.
Broken window
A former Sinn Féin member has claimed he is "under siege" due to his criticism of the party's activities, according to the Belfast Telegraph.
John McCabe has written critical comments about the party on social media.
He told the paper that he left the party after relations with Sinn Féin soured.
Sinn Féin has denied Mr McCabe's claims, adding that "no one should be subjected to hate and harassment".
Limited life expectancy
The front page of the News Letter reads: "Cerebral palsy girl gets £5m negligence payout".
The nine-year-old girl from County Down was starved of oxygen to the brain during delivery at the Ulster Hospital in Dundonald in 2008 and developed severe cerebral palsy.
Her family sued the South Eastern Health and Social Care Trust for alleged medical negligence.
After a long legal battle, a court was told it will not contest liability.
Lawyers acting for the girl confirmed that she now has a limited life-expectancy due to her condition.
'Dog's abuse'
A GAA and soccer star who was the first black footballer to play at Croke Park has spoken about racist abuse he faced during his sports career, reports the Irish News.
In a two-part interview, Joey Cunningham opens up about "dog's abuse" he suffered during matches.
He recalls one incident where he took a thrown-in and had abuse shouted at from the sidelines by a man and his young son.
"Here was a kid who was abusing me and he didn't even know what was coming out of his mouth," he told the paper.
"It was just insane, but it didn't make me bitter at all, it made me sad...sad to think this man didn't know me from Adam but he jumped on the bandwagon anyway."