Kingsmills was shameful says Sinn Féin's John O'Dowd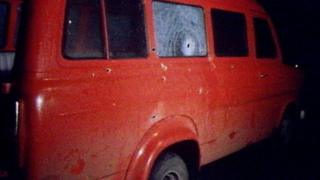 A senior Sinn Féin politician has said the 1976 Kingsmills massacre was "shameful" and purely sectarian.
John O'Dowd was speaking on the BBC's The View programme after a week of political rows connected to the murder of 10 Protestant workmen by the IRA.
Last week, a video was tweeted by Sinn Féin MP Barry McElduff, showing him with a Kingsmill loaf on his head, on the anniversary of the murders.
Mr O'Dowd said as a republican he was shamed by the killings.
"Those who carried it out did not advance the cause of Irish unity in any way," he said.
"I am not surprised the Kingsmills families are so annoyed and will not accept what Sinn Féin has said [that the video was not intended to offend them] because republicans have hurt them and harmed them."
However, Mr O'Dowd would not state that it was the IRA who carried out the murders, saying it was wrong "regardless of who carried it out, whether it was the IRA, or others, or people acting from the IRA".
On the same programme the DUP's Edwin Poots said his party is going to do its best to move Northern Ireland forward.
"That involves, whether I like it, or whether I don't, or whether a lot of our supporters like it or don't, that will involve doing some sort of business with Sinn Féin," he said.
"And whether Sinn Féin supporters like it or not, it will involve doing some sort of business with the DUP."