Banbridge woman lost baby after traumatic six-day labour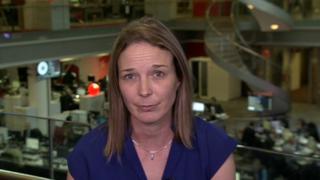 A County Down woman who was told her baby's stillbirth was "almost certainly preventable" has spoken of the trauma she went through in her six-day labour.
Sarah Hawkins' daughter Harriet was stillborn at Nottingham City Hospital in April 2016.
The Banbridge woman and her husband, Jack Hawkins, had to fight for an independent review of her treatment which identified 13 failings.
The hospital trust issued a profound apology for "shortcomings" in its care.
The couple are campaigning for a change in the law in England to allow inquests into cases of stillborn babies, so lessons can be learned on how to prevent further deaths.
Inquests into stillbirths are already permitted in Northern Ireland, following a groundbreaking world-first case in County Londonderry in 2016.
"I was a low-risk pregnancy and reached full-term," Mrs Hawkins told BBC Newsline.
"The day after my due date I started contractions, they lasted for six days. Within those days I had 12 contacts with the hospital and two admissions.
"On the final admission I was told to come in as something had started to hang out of me.
'Nightmare'
"When I got there, I was put in the 'birth sanctuary suite' which we now know should have been an obstetric emergency. I was examined and they told me that they could see the baby's head.
"They set up the water bath, then they struggled to find Harriet's heartbeat, so they called the doctor. The doctor scanned and said I'm sorry, your baby is dead'."
"I remember screaming, I remember just being numb from her to toe, I just felt like I was in a nightmare and I couldn't wake up."
She said when Nottingham University Hospitals (NUH) Trust carried out its own review of the case, it found "no fault" on behalf of the hospital.
"However, they hadn't actually asked us what happened," Mrs Hawkins said.
"They weren't aware that I'd been in labour for six days so really they had conducted their own investigation without having our input."
Mr and Mrs Hawkins both work for the NUH Trust - she is a senior physiotherapist and he is a hospital consultant
They challenged the findings of the internal review and won the right to an official external investigation.
On Wednesday, BBC Nottingham reported that the review identified 13 failures and concluded the child's death was "almost certainly preventable."
It found failures to record or pass on information correctly, failure to follow correct guidelines and delays in administering the correct treatment.
The chief executive of NUH Trust, Tracy Taylor, issued an apology after the findings, saying: "I offer my deepest sympathy to Sarah and Jack for the pain and distress the death of their daughter, Harriet, continues to cause them and their family.
"I profoundly apologise that we let them and Harriet down so badly.
"NUH has acknowledged that it is likely Harriet would have survived had it not been for several shortcomings in care."
Ms Taylor said the trust had learnt lessons from the review.
"We have already made substantial changes to address the shortcomings in our systems of clinical care and governance processes that arose from this case and have completed a broader review of maternity services."
Calling for legal change for stillbirth inquests, Mrs Hawkins said: "The coroner doesn't get involved in England because Harriet wasn't classified as an alive person, because she never took a breath.
"We think the law in England should change to allow coroners to review [these cases] as it is in Northern Ireland."