Ulster Hospital: Girl injured at birth set for £5m payout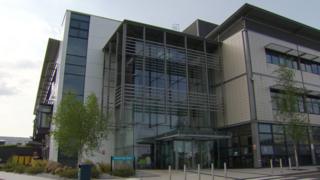 A nine-year-old girl is set to be awarded more than £5m in damages after she sustained life-changing injuries during birth at the Ulster Hospital.
The child was starved of oxygen to the brain during delivery at the hospital in Dundonald, in east Belfast, in 2008 and developed severe cerebral palsy.
Her family sued the South Eastern Health and Social Care Trust for alleged medical negligence.
After a long legal battle, a court was told it will not contest liability.
'Everyday difficulties'
The County Down girl, who cannot be identified, now has a limited life expectancy due to her medical condition and has extensive care requirements, the High Court in Belfast was told.
The settlement, believed to be one of the biggest of its kind in Northern Ireland, is intended to cover life-long care needs.
It will include a lump-sum payment and further periodical instalments for the rest of her life.
The High Court also had to approve a package of care arrangements before the case was resolved.
A video diary of the "everyday difficulties" the family face in trying to care for their daughter was used to support their case, according to the family's solicitor.
'Massive repercussions'
The family's solicitor confirmed that the agreed settlement is expected to exceed £5m.
"This isn't a lottery win for the family, it's very small recompense for what they have gone through," he said.
"They were failed at the birth of their child, and this has had massive repercussions on the wider family circle."
He added that the legal team had secured an "interim payment of £500,000 to assist in this girl's immediate needs and relieve some of the family's stress".
The South Eastern Health and Social Care Trust told the BBC it had no comment to make about the case.