Sinn Féin Belfast council chief McVeigh to stand down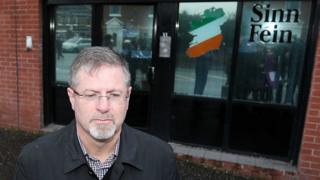 Sinn Féin's leader on Belfast City Council, Jim McVeigh, is to stand down next month.
The former IRA prisoner is a councillor for the Court electoral ward in west Belfast.
He has been on the council since being co-opted to replace Fra McCann in 2010. He will be replaced as a councillor by 34-year-old Claire Canavan.
Known to republicans as "Flash", McVeigh was the last leader of IRA prisoners in the Maze.
He spent 17 years in the prison between 1983 and July 2000.
He is set to continue as a Sinn Féin activist and to work with the trade union SIPTU.
'Proud'
He said it has been a privilege to be a Belfast city councillor and that he was proud of the work that Sinn Féin did on the council.
"Our team there have championed and promoted equality and respect for all citizens and all communities across Belfast," he said.
"We led the drive for an investment strategy which has delivered unprecedented resources for public services and public amenities, creating and sustaining thousands of jobs across Belfast.
"I will remain a Sinn Féin party activist and will be working with our party Chairperson Declan Kearney to develop and strengthen our party's policies on workers' rights, particularly in the North," he added.