Kingsmills cartoonist 'never intended to cause hurt'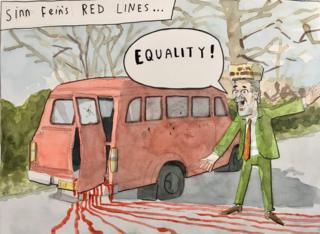 The artist behind a controversial cartoon depicting the Kingsmills massacre has said he "never intended to cause any hurt".
Brian John Spencer created the image in response to a video by Sinn Féin MP Barry McElduff, showing him with a Kingsmill loaf on his head, tweeted on the anniversary of the killings.
Mr Spencer said his thoughts were "with the Kingsmills families".
Ten Protestant men were murdered by the IRA in the massacre on 5 January 1976.
"The job of an artist is to look at what's happening and point out the hypocrisy and the bluffery," he told BBC News NI.
"The material with the van and the blood could be seen as obscene, but the past was gory and brutal and tough images have to be seen to reject the past and move forward together."
Mr Spencer said he created the piece to illustrate what he called "lecturing fatigue" within the unionist community, brought on by Sinn Féin's stance on equality issues.
Sinn Féin condemned the video by Mr McElduff and the MP was suspended from his position, but some claimed he should have resigned.
Mr Spencer said: "It's interesting for me to watch Sinn Féin going around lecturing, but I worry because they have these young people from the next generation backing the old line.
"There's not much talk of rejecting the past."
The Kingsmills cartoon was posted on Twitter by DUP MLA Christopher Stalford on Wednesday, but he later deleted it after being contacted by a close friend of one of the families affected by the massacre.
He said the issue was "not a concern about offence" and he had no regrets.
"I had said the only circumstance in which I would remove it from my Twitter page was if someone associated with that dreadful incident asked me to," he told BBC Radio Ulster's Talkback programme.
"I wasn't prepared to remove it at the behest of effectively the Sinn Féin Twitter mob.
'Stop point-scoring'
"There is a phrase that a picture says more than countless statements and I think that picture was extremely powerful and emotive, it was fundamentally valid.
"I will take objections from Sinn Féin and other republicans a lot more seriously when they are prepared to admit the IRA was responsible for Kingsmills and are prepared to admit that other acts of terrorism that were carried out in the name of achieving a united Ireland were wrong."
Alan Black, the sole survivor of the Kingsmills massacre, called on politicians to stop point-scoring over the killings.
"If they would help the Kingsmills families and myself with the inquest, their time would be for better spent than trying to poke each other's eyes out with a sharp stick," he said.
Alliance Party leader Naomi Long also called for politicians to remove the image from their accounts.
She said: "Artists, of course, have a right to freedom of expression, and will often use images which are provocative or even grotesque in order to make their point.
"However, we are not artists, comedians, or satirists, we are supposed to be politicians.
"Our role in society is not to play the provocateur, we have a duty to show restraint and leadership and should carefully consider the impact of our words and actions on the community and the political process, and never more than when it comes to dealing with our painful and bloody past."