Weekly NI Paper Review: MLA expenses and gas disruption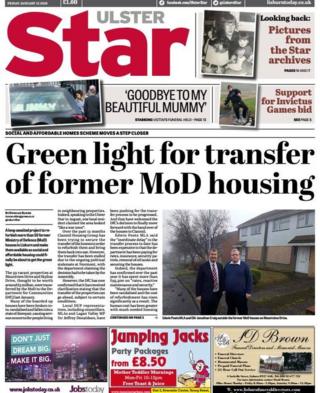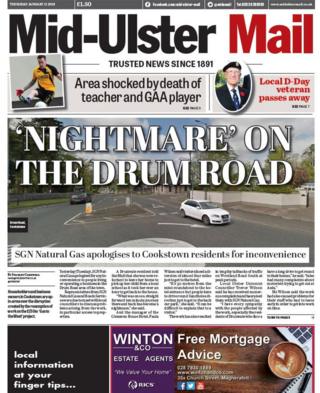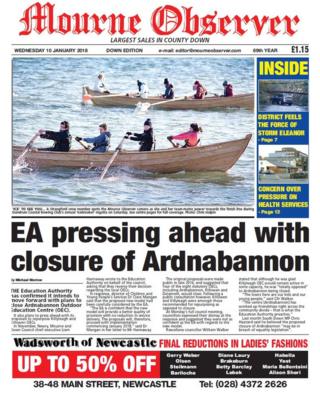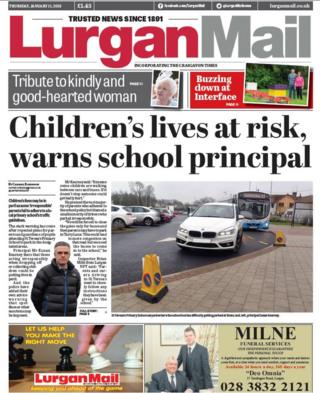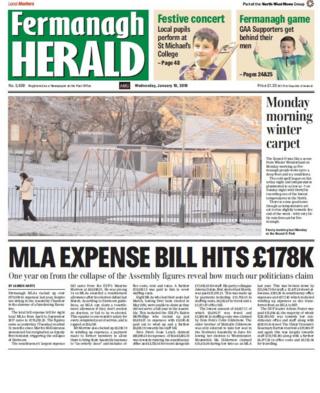 MLA expenses, gas work disruption and school pick-up concerns all feature in the local papers.
The Fermanagh Herald reports that MLAs from Fermanagh have claimed expenses worth £170,000 since January 2017.
The district has a total of eight MLAs, with the biggest claimant being the DUP's Lord Maurice Morrow.
This week marks exactly one year since the late Martin McGuinness resigned as deputy first minster.
Since then Northern Ireland has been without an executive.
The paper reports that Lord Morrow was one of 14 former MLAs who was awarded a resettlement allowance following his election defeat in March last year.
It claims that Stormont guidelines reveal this to be equivalent to one month's salary for every year of completed service, and is capped at £24,500.
Lord Morrow gained £2,595.19 to bring his Assembly business to "an orderly close", and a further £16,603.12 to cover staffing costs, according to the Herald.
Meanwhile, the MLA who claimed the least in the area was Sinn Fein's Colm Gildernew, who claimed £2090.17 in travel and £5936.94 in staffing costs.
'Follow rules'
"Children's lives at risk, warns school principal," reads the headline of the Lurgan Mail.
It comes after repeated pleas from St Teresa's Primary School for parents and guardians to park in designated areas.
Eunan Kearney told the paper: "It means some children are walking between cars and buses.
"If it doesn't stop someone could get badly hurt."
The police have added their voice, calling for drivers to abide by instructions given by the school.
Elsewhere, a 26-year-old man from Enniskillen has been convicted of disorderly behaviour over a gesture he made at police.
The Fermanagh Herald reports that Michael Carey of Derrin Park had originally contested the charge, but later pleaded guilty.
Enniskillen Magistrates Court heard that three police constables watched Carey give them a gesture at Darling Street in August 2017.
When the officers approached him, it is understood he appeared intoxicated.
The defence claimed the gesture had not been directed at the police.
Carey received a conditional discharge for 12 months.
Properties to get face lift
"Green light for transfer of former Ministry of Defence (MoD) housing," reads the front page of the Ulster Star.
The paper reports that 59 former MoD houses in Lisburn are expected to be made available for social and affordable housing.
The properties, located on Mountview Drive and Skyline Drive, were transferred by the MoD to the Department for Communities (DfC) in January last year.
No action had been taken over the properties due to stalemate at Stormont, with the DfC believing they could not make decisions without the assembly.
However, the DfC have received confirmation that it can take action, subject to certain conditions.
The move has been welcomed by politicians including DUP MLA Edwin Poots.
"Many of the homes have been vandalised and the cost of refurbishment has risen significantly as a result," he said.
Gas installation disruption
Residents in Cookstown are angry due to disruption created by resumption of work on the £250m 'Gas to West' project, reports the Mid-Ulster Mail.
Paula Wilson, the manager of Glenavon House Hotel, told the paper that a diversion means guests must travel four miles extra to get to the hotel.
"It's 50 metres from the mini-roundabout to the hotel entrance but people have to drive round the Sandholes direction just to get to the back car park," she told the paper.
Scotia Gas Networks (SGN) Natural Gas, who are carrying out the work, apologised for any convenience to home and business owners on the Drum Road.
'Kids will lose out'
The Mourne Observer reports that the Education Authority (EA) is "pressing ahead" with its closure of Ardnabannon Outdoor Education Centre (OEC).
It reports that the EA is also due to repurpose Killyleagh and Killowen OEC's.
In November, the chief executive of Newry, Mourne and Down Council (NMDC) wrote to the EA asking them to reverse their decision.
The director of Children and Young People's services, Dr Clare Mangan, responded that the move would "provide a better quality of provision with no reduction in service delivery.
"The proposals will, therefore, proceed with implementation," she added.
This week, the council expressed their concerns and suggested they were not as confident as the EA.
DUP Councillor William Walker told the paper: "The losers here are our kids and our young people.
"The centre (Ardnabannon) has worked up friendships right across the community divide - that is what the EA preaches."
'Great honour'
A Portadown man is to be honoured by the Queen for his services to help save others, reports the Lurgan Mail.
Paddy Prunty, who will receive a British Empire Medal (BEM), is one of the founders of Lough Neagh Rescue.
It was established following a tragedy in 1989 in which the rescue organisation's co-founder, David Gray, lost his son.
David Gray Jnr had been returning from Kinnego Marina with three friends when their vessel ran out of fuel and sank.
Mr Prunty told the paper: "It is a great honour for all out current and past lifeboat crews."
Councillor caught drink driving
An Alliance councillor has referred himself to the Local Government Commissioner for Standards following a conviction for drink-driving.
Patrick Brown admitted to riding his motorbike following a night out with friends in March 2017.
"Police pulled me over after the first corner and I fully cooperated with him," he told the Mourne Observer.
"I am glad no-one was hurt as a result of my stupidity."
Mr Brown appeared in Laganside courthouse in July where he was charged with drink-driving, ordered to pay a £250 fine and a £15 offender levy.