NI Paper Review: Loughinisland judgement and Kingsmills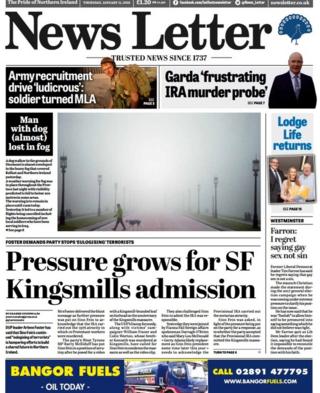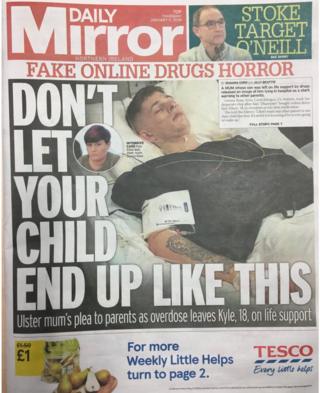 The Kingsmills video controversy, Loughinisland judgement and army advertising all make the papers on Thursday.
The front page of the News Letter reads: "Pressure grows for Sinn Féin Kingsmills admission."
It comes after a Sinn Féin MP tweeted a video of himself with a loaf of Kingsmill bread on his head on the anniversary of the Kingsmills massacre.
Ten Protestants were murdered in the 1976 atrocity by the IRA.
The paper reports that Arlene Foster has claimed Sinn Féin's "eulogising of terrorists" is hampering efforts to build a shared future in Northern Ireland.
Ulster Unionist Danny Kennedy, and some relatives of victims murdered in the massacre have called for Sinn Féin to condemn the murders, the video clip, and to admit the IRA was responsible for the attack.
Meanwhile the Belfast Telegraph reports that a former watchdog of MPs' standards of conduct has expressed his shock that Barry McElduff, who posted the video, was not sacked.
Sir Alistair Graham acted as Westminster's watchdog until 2007 and told the paper he had not encountered anything comparable to the "offensive and bizarre" tweet by the West Tyrone MP.
"I think had this been any other political party, Mr McElduff would have been asked to step down by now," he said.
"I'm really surprised at the very modest reaction of Sinn Féin."
Loughinisland appeal expected
The Irish News reports that a High Court judgement on the Loughinisland report by the Police Ombudsman is expected to be appealed.
The paper reports that the grounds for appeal are that the judge represented a retired officer who brought the case against the ombudsman's office in a similar case.
Six men were shot dead in the atrocity by loyalist paramilitaries as they watched a World Cup football match in a pub in Loughinisland, County Down.
Last December Mr Justice McCloskey said the ombudsman's ruling that there was collusion in the 1994 murder was "unsustainable in law".
The Ombudsman's report was published in June 2016.
Mr Justice McCloskey is due to rule whether or not it should be quashed on Friday.
Drugs warning
The plea of a mother whose 18-year-old son took a drug overdose makes the front page of the Daily Mirror.
Genna Ross released an image of her son lying in hospital on life support as a warning to other parents.
The paper reports that Kyle Elliott overdosed a week after taking "30 fake diazepam".
It claims the man bought 150 of the pills from a dealer in Belfast who had posted an advert on Facebook.
Kyle's mother, Genna, told the paper: "I don't want any other parent to see their child like that.
"It's awful seeing your child lying there and not knowing if he is ever going to wake up.
"He does have underlying issues but it was these tablets that made him do it," she added.
'Ludicrous' recruitment advert
A former soldier turned MLA has described a new army campaign promoting emotional support to recruits as "ludicrous", reports the News Letter.
The recruitment drive includes a variety of animated videos with questions such as: "Can I be gay in the Army?" and: "What if I get emotional in the Army?"
Andy Allen, who lost both his legs in an explosion in Afghanistan at the age of 19, said the new approach will not solve the "recruiting crisis".
The former Royal Irish Regiment solider told the News Letter: "To me it is common sense that any employer, especially a government-based one like the Army, should have in place procedures to support people.
"Much more effective are adverts which show what life is like in the Army and the range of diverse careers open to people."
'River of tears'
A picture of mourners gathering at the funeral of a Pomeroy teacher also makes the front page of the Irish News.
Christopher Colhoun died 24 hours after being admitted to hospital with flu, the paper reports.
It is understood that the vice-principal of St Patrick's Primary School in Dromore had been suffering for a few weeks before becoming seriously ill.
A talented GAA footballer, members of Pomeroy Plunketts GAC formed a guard of honour around the 33-year-old's coffin at a church in Clonoe.
Fr Benedict Fee said: "Life was good for Christopher - he had his family, his football and he had his teaching too."
He added that a "river of tears" had been shed for Mr Colhoun.