Edwin Poots considering quitting politics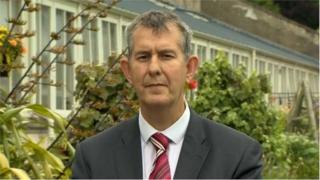 A former DUP executive minister has said he is considering leaving politics because there is little sign of devolution returning.
Edwin Poots has told BBC News NI he is seriously looking at the prospect of a new career.
"I think it's something most wise politicians would be looking at now that the future is uncertain," the Lagan Valley MLA said.
"We need to be looking at other options."
When asked if he was looking seriously at options outside of political life, he said he was.
He also told BBC News NI that he found the lack of devolution frustrating and said "limbo is not a good place to be".
"Prefer to stay"
The senior DUP figure who became culture minster in 2007 and health minister in 2011 also described how difficult the past 12 months has been as an MLA.
"The last year has not been a year that has had much fulfilment for any politician," he said.
He confirmed he had talked to people about job opportunities on "a regular basis".
However, he made it clear his preference was to stay in politics in a working assembly.
Northern Ireland has been without a devolved government since last January when Martin McGuinness resigned as deputy first minister.
Despite a series of political discussions in 2017, talks have failed to produce a power-sharing executive.
It is expected that another round of talks will be announced shortly by the new Secretary of State Karen Bradley.
Job interview
Edwin Poots is the most high profile MLA to talk about leaving politics if Stormont does not return.
He is not the first to consider a career change and it is known a number of other assembly members are having similar thoughts.
The SDLP MLA Daniel McCrossan told the BBC last December that he might return to a law career.
He said his legal career may sit alongside his duties as an MLA for West Tyrone.
The BBC also understands that a unionist politician has been interviewed for a job in Scotland in recent weeks.