Double take as misspelt sign replaced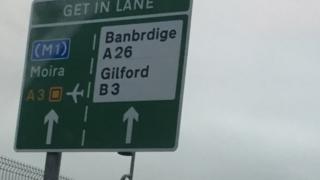 A road sign pointing to Banbridge, County Down, is to be replaced after drivers noticed the spelling of the town was incorrect.
The sign at Millennium Way approaching a roundabout reads "get in lane".
But the word Banbridge is spelt 'Banbrdige'.
It is understood the error occurred at the manufacturing stage and is being corrected at no cost to the department for infrastructure.
One driver who spotted the mistake told the BBC they were "shocked" to see a word misspelt.
A department for infrastructure spokeswoman said: "The department has been made aware of this error.
"It will be rectified within the next 24-48 hours at no cost to the department."