Sinn Féin suspends Barry McElduff over Kingsmills video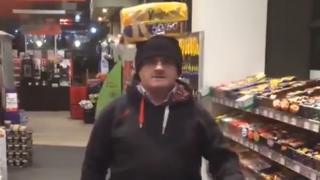 A Sinn Féin MP who posted a video said to mock IRA victims has been suspended by his party for three months.
Barry McElduff met Sinn Féin's Stormont leader Michelle O'Neill and apologised for posting a video showing with a loaf of Kingsmill bread on his head.
It was tweeted on the anniversary of the killing of 10 Protestants by IRA gunmen at Kingsmills in 1976.
Sinn Féin MPs do not sit in Westminster but the Speaker said a parliamentary watchdog may still take action.
'Outrage'
However, the party's leader at Stormont said she did not believe his actions were "calculated or deliberately intended to be malicious".
"I made it clear to Barry that his tweet was ill-judged, indefensible and caused hurt and pain to the victims of Kingsmills," said Ms O'Neill.
"It falls far short of the standard expected of Sinn Féin representatives and our members."
Unionist politicians were highly critical of the party's response, with Democratic Unionist Party (DUP) leader Arlene Foster describing it as "pathetic".
She was with relatives of the Kingsmills victims in County Armagh as the sanction was announced.
"They said to me that it has actually added insult to injury," Mrs Foster told BBC Newsline.
Her DUP colleague Sammy Wilson said that Mr Elduff's suspension - during which he will still receive a salary from Sinn Féin - was a "cop out".
Mr Wilson raised the matter in the House of Commons on Monday, saying Mr McElduff had "caused outrage" by "dancing around a shop with a loaf on his head".
"Can you give me some guidance, Mr Speaker, as to what action can be taken by the authorities in this House to condemn and to draw to the attention of this House the obnoxious behaviour of the MP for West Tyrone?
'Utter distaste'
Commons Speaker John Bercow replied: "I am advised that there has been a significant number of letters about the matter to the parliamentary commissioner for standards and, if that be so, matters will take their course in accordance with the judgement reached by the parliamentary commissioner.
"More widely though, I take extremely seriously what the honourable gentleman [Mr Wilson] has said and I share his distaste - his utter distaste - for any celebration of deaths."
Former Northern Ireland secretary Theresa Villiers told BBC Radio Ulster that Sinn Féin's sanction against Barry McElduff was "a little on the lenient side".
Former Ulster Unionist Party (UUP) MLA Danny Kennedy, who campaigns on behalf of the Kingsmills families, said he was surprised by the suspension.
He said Mr McElduff "has received little more than a yellow card when he should have got a straight red".
Speaking after the Sinn Féin meeting, Mr McElduff said: "I genuinely meant no offence."
He said he fully accepted the party's decision to suspend him from all party activity for three months.
Earlier, Mr McElduff did apologise for the post but said he did not realise there could be a possible link between the bread brand and the anniversary.
Party colleague Máirtín Ó Muilleoir also apologised for retweeting the video.
In the video, Mr McElduff said he was in a service station, then, mentioning the name of the shop, asked where they kept their bread while balancing a loaf on his head.
The well-known brand of bread shares a very similar name with the south Armagh village that witnessed one of the most notorious incidents of the Troubles, when gunmen stopped a van carrying textile workers on their way home, identified the Protestant occupants, lined them up at the side of the road and shot them.
The police have said they have received "a number of reports of a post on a social media platform, made by a local public representative".
"Inquiries are ongoing."