Council order halts Straid Congregational Church demolition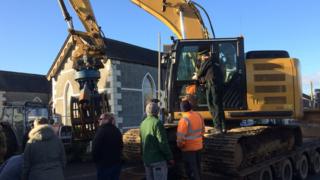 A temporary building preservation notice has been issued for a church that was to have been demolished on Saturday morning.
Earlier, protesters blocked a demolition truck from going into the grounds of Straid Congregational Church in County Antrim..
It was to have been demolished to make way for a new church.
The church pastor, who supports the demolition, was at the scene with a small numbers of supporters.
They want the old church to be removed so that a new one can be built.
The police were also there and Main Street was blocked for several hours.
The preservation order, issued by Antrim and Newtownabbey Borough Council, lasts for six months.
The Alliance Party's David Ford has criticised moves to demolish the church.
"I understand the church has been considered for listing and in that context, to start the demolition process late on Friday night gives the impression that work is being done to get round a possible listing order," he said.
"While this might be strictly legal, it has created concern among many residents of Straid Village and calls into question the way church authorities have behaved."