Boat death husband 'degraded Lu Na McKinney'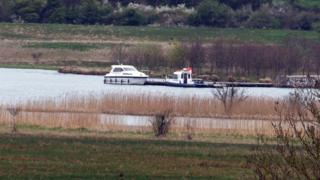 A man charged with murdering his wife allegedly subjected her to "controlling, degrading and manipulating" treatment, Belfast High Court heard on Friday.
Lu Na McKinney was on holiday in County Fermanagh with her husband and two children last April.
The 35-year-old died after entering the water at Devenish Island.
Stephen McKinney, of The Flax Fields in Lifford, County Donegal, denies murder, insisting he tried to rescue his wife.
Prosecutors claim Mr McKinney, who was originally from Strabane, had verbally abused his wife about their sex life before her death.
High Court Judge Sir Declan Morgan was also told the 41-year-old accused provided varying recollections of how his wife fell into the water while checking their mooring and after taking sleeping pills.
According to a pharmacology expert she could not have functioned as described due to the "hypnotic-sedative effect" of the drugs in her system.
It was further alleged that Mrs McKinney had once spoken about a case where another woman went missing from a cruise ship, and stated that if anything should happen to her, "it would be Stephen".
Adjourning Mr McKinney's application for bail, Lord Chief Justice Sir Declan Morgan indicated he was minded to release the defendant if a suitable address could be found.
'Beautiful woman who couldn't cook'
Mrs McKinney, a Chinese national, was initially believed to have died in a boating accident.
But based on statements from staff at the marina where the family hired the cruiser, expert witnesses, work colleagues of the deceased and telecommunications evidence, police launched a murder inquiry.
The court heard that after marrying in 2003, the couple moved between the Republic of Ireland and China, returning to Donegal in 2016.
In a statement to police, Mr McKinney described his wife as "a beautiful woman who couldn't cook", said they were happy together and added that she looked after the family's finances as he had no concept of money.
According to his account, they hired the boat to go on a two-night Easter break with their two children, aged 14 and 11.
He confirmed there were only two life jackets on the cruiser, used by his son and daughter, and claimed they had set off without two more being provided because of the excitement of the trip.
'Sleeping tablets'
On the night his wife died, Mr McKinney said she took possibly two sleeping tablets the couple had previously purchased on the internet.
A prosecution lawyer set out how the accused told police he was later woken by Mrs McKinney standing beside him fully dressed, saying she thought the boat was moving and was going out to check the ropes.
McKinney claimed he followed his wife out onto the deck, saw her fall overboard and possibly shout for help.
He said that he immediately jumped into the Lough and managed to get hold of her.
But she could not swim and was struggling, pulling him down and grabbing his necklace, the court heard.
Mr McKinney claimed that after he lost grip of his wife she was "gone".
'Children remained asleep'
He recalled pulling himself back onto the boat and using the torch function on his mobile phone to search for her before calling 999 for help.
The two children remained asleep throughout the incident, according to his statement.
However, the prosecution disclosed a pharmacology expert's opinion that it would not have been possible for Mrs McKinney to function as described by her husband due to the level of drugs in her system.
"Optimum effects would leave Lu Na experiencing a hypnotic-sedative effect," the prosecutor said.
Setting out further details of the circumstantial case against the accused, she contended:
Staff at the marina told Mr McKinney to go to the office to obtain two more life jackets
He allegedly refused to accept, being told by his wife that she did not want to go on the boat trip
He gave different reasons for the family trip, ranging from an Easter holiday, early wedding anniversary, surprise for the children, and celebration of a new job
Mr McKinney allegedly provided varying accounts of how his wife came to be in the water - both seeing her fall in, and then only hearing a splash before discovering her in the Lough
He had allegedly been advised to moor at a different jetty on Devenish Island
The court also heard that mobile phones and computers seized from Mr McKinney led to the recovery of Skype chats, sex videos and sexual images involving the defendant, his wife and other unknown individuals.
One chat from 2014 included more than 1,000 entries and took place while Mr McKinney was either separated from or living away from his family, the prosecution said.
The prosecution said they depicted him as being verbally abusive towards his wife about their sex life, blaming her for their separation and then encouraging her to take part in activities.
"This is eventually agreed by Lu Na, saying she will change and do whatever McKinney wishes if he will come back to the family," the prosecution barrister continued.
"From reading the entirety of this chat it can be said that McKinney is displaying controlling, degrading treatment toward Lu Na, and manipulating Lu Na to the extent that regardless how she answers or agrees to McKinney's request the goalposts are continually moved."
'Rumour and innuendo'
A lawyer for the defence countered that the witness evidence against his client involved "second or third-hand hearsay".
"The situation as described by Mr McKinney to the emergency services and ultimately to the police is that this was an accident," said the lawyer.
"He attempted to save his wife's life and he failed."
Disputing that a prima facie circumstantial case had been established against his client, he added: "The circumstances appear to consist of rumour and innuendo."
But with detectives still to speak to the accused's children, Sir Declan confirmed McKinney would not be allowed out of custody to live close to them.
Adjourning the case, he said: "I'm minded in principle to releasing this man on bail when a suitable bail address has been found."