Ardoyne residents 'terrified by death drivers'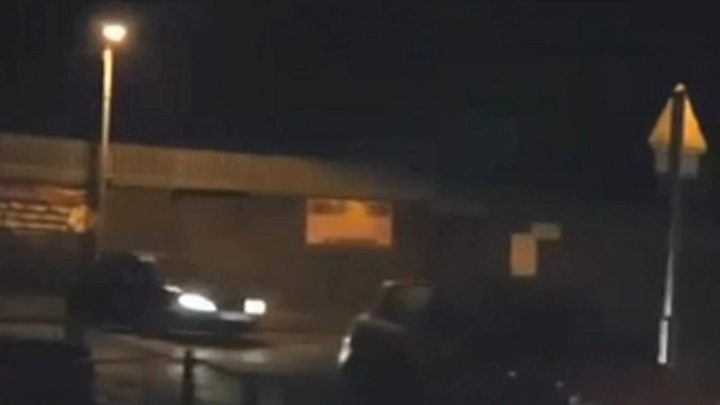 North Belfast residents were left "terrified" by so-called death drivers who rampaged through the Ardoyne area on Thursday night, they say.
Footage of cars skidding and spinning in circles on the Oldpark Road, in front of a cheering crowd, has been posted on social media.
Residents and the SDLP accused police of failing to respond to their calls.
However, the PSNI said it patrolled the area over the past two nights after receiving calls about erratic driving.
'Very distressed'
Witnesses claimed that "car loads" of people arrived in Ardoyne on Thursday night to watch the vehicles being driven at speed and spun down the road.
Local resident Lisa said she and her children were terrified.
"It really, really affected us," she told BBC news NI.
"It woke everybody up but my youngest son got very, very distressed.
"I couldn't get him back to sleep again until half past five this morning, so I wasn't able to send him into school."
Lisa's son has autism and was frightened by the screeching of brakes and revving of engines.
"He's been talking all day about the loud noises and he doesn't want to hear [them] again," said Lisa, who did not want her full name to be used.
Lisa added that it was not the first time cars had been driven dangerously in the area.
"It would happen every now and again, but last night was just a hell of a lot worse," she explained.
"There were crowds and crowds of people that were here to watch it going on.
"To me, it was definitely organised."
'Absolute disgrace'
She said the erratic driving continued for about half an hour while onlookers were "recording it and cheering, whistling and egging them on".
"A lot of us contacted the police and the police were nowhere to be seen," she added.
"I was awake until nearly six o'clock this morning and I still couldn't see them at all."
Lisa described the PSNI response as "an absolute disgrace".
SDLP councillor Paul McCusker also told BBC News NI that he and other residents had reported the incident to the PSNI and he claimed "there was no response from police".
He residents were "very angry" about the situation and many had not been able to sleep overnight due to the noise.
"We've seen an increase in people death driving in Ardoyne/Oldpark over the last number of months. We've been raising this with local police, but the response isn't there, in terms of actually dealing with this.
"The concerning thing is - it was orchestrated last night with large numbers of people coming along to record it on their phones. They were gathered here until the early hours of the morning."
'Taxed and insured'
"People in their own homes should feel safe, but last night they didn't. People rely on the police to respond and deal with this.
"My question today to the police is - where were you last night?"
In a statement, the PSNI said they did respond to recent reports of death drivers and "stopped and noted the details of the drivers and passengers of a number of cars".
"Each was registered, taxed and insured," the PSNI said, and added that patrols were "unable to locate any vehicles being driven erratically".
The statement added: "Whether the vehicles involved in this kind of criminal activity are stolen or not, this behaviour is beyond dangerous, reckless and serves no purpose."