Restore Stormont to tackle health crisis, says SDLP leader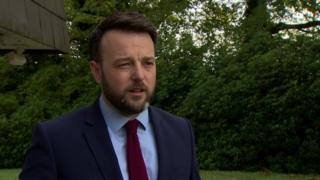 Northern Ireland's health care "crisis" has prompted the SDLP to call for the immediate resumption of talks to restore power-sharing at Stormont.
SDLP leader Colum Eastwood made the plea after weeks of serious pressure on hospital emergency departments and GP services over the Christmas holidays.
"The crisis in our hospitals is shameful," said Mr Eastwood.
Sinn Féin's Stormont leader Michelle O'Neill said parties should not use the political impasse to score points.
Mr Eastwood claimed the current situation in the local health care system "is not acceptable, sustainable or safe".
He called on MLAs to "utilise the power we have here to alleviate the pressures on our hospitals and save lives".
Patients and their relatives have complained about long waits and overcrowding at hospital emergency departments (EDs).
On Thursday, it was confirmed that there was a 14% increase in the number of patients treated at EDs in Northern Ireland this Christmas compared to the same period two years ago.
Northern Ireland has been without a devolved government for almost a year, after the coalition led by the DUP and Sinn Féin collapsed.
The SDLP leader said having a locally-elected health minister in place at Stormont could help to alleviate some of the pressures, as they could lead the long-awaited reform of the health service.
"In a society such as ours, patients should not have to wait for lengthy periods of time for urgent medical care," Mr Eastwood said.
"Patients and frontline health workers cannot wait for the DUP and Sinn Féin to start talking again.
"The crisis in our healthcare system surely must be a basis for dialogue."
Government cuts
Former health minister Michelle O'Neill said the crisis in health services arises out of the UK government cuts to public services and the "long overdue need to transform how we deliver services".
"I knew from my time as health minister, from when I went in through the door of the health department that we had a service that was on its knees.
"I set out [a] much-needed transformation plan... For the first time ever I was able to secure political consensus for the plan.
"All parties need to stay focused on the plan instead of using the current political impasse to score political points," she added.
'In a huff'
A few months before the Northern Ireland Assembly collapsed, Mrs O'Neill, said the health care system was at "breaking point" and she unveiled a 10-year plan to transform services.
Much of the work anticipated in the Bengoa review has stalled due to the political stalemate at Stormont.
Mr Eastwood said: "A representative from the Health and Social Care Board recently said that while work on health transformation was happening at a civil servant level, work could be progressed if we had a health minister."
On Thursday, DUP MP Sammy Wilson questioned Sinn Féin's contribution to tackling the health crisis.
He tweeted: "Before she stormed out in a huff, Michelle O'Neill left vital health reforms on her desk.
"Meanwhile, the DUP have secured an additional £200m for health transformation, £50m for immediate pressures and £50m for mental health."
'Usual bickering'
Several rounds of talks aimed at restoring devolution in Northern Ireland last year failed.
Sticking points included disagreement over the introduction of an Irish language act and the legalisation of same-sex marriage.
Mr Eastwood said he was "disappointed but not surprised to read the usual bickering from the DUP and Sinn Féin" in relation to problems in hospital emergency departments.
"For our part, the SDLP believe a rights-based society must too include the right to safe and timely healthcare," he said.
The Ulster Unionist Party claimed that the latest "crisis was entirely predictable and preventable".
The party's health spokesperson, Roy Beggs, said: "The strain of this year's winter flu was long known to be much more virulent and unfortunately the local health service was already in a frighteningly precarious position as a result of the growing pressures over the last two or three years.
"Every year Northern Ireland faces these pressures with growing intensity and even though the coming of winter is entirely predictable, the demands on local hospitals are still regularly described as unexpected or unplanned."
Mr Beggs added: "The tragic reality is that according to years of previous experience, winter for the local health service has hardly even begun. The next three months are always the most difficult and as a result virtually every local hospital is likely to continue to face exceptional demands."