Dungannon human trafficking accused denied bail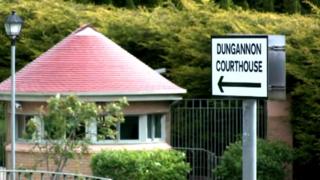 A judge has ruled that a Hungarian man accused of the rape, human trafficking and prostitution of a woman, must remain in custody.
Gyorgy Orsos, 32, of John Street, Dungannon, was arrested along with a co-accused after a police raid on premises in the town.
A member of the public had reported concerns about the welfare of a woman.
It is one of the first cases under the Human Trafficking and Exploitation legislation, introduced in 2015.
Mr Orsos faces a number of charges, including rape, kidnapping, human trafficking, controlling prostitution for financial gain, criminal damage, as well as converting and concealing criminal property.
Dungannon Magistrates Court heard Mr Orsos is alleged to have facilitated the victim's travel to Northern Ireland with the view to exploiting her, then unlawfully took her away by force, before destroying her mobile phone and stealing her bank cards.
He is further accused of raping her on two occasions and intentionally controlling her in prostitution for financial gain.
He is also charged with concealing money of an unknown value, and converting it under Proceeds of Crime legislation.
Escort websites
Co-accused Evelyn Covacs, the 21-year-old partner of Mr Orsos, and with the same address, is also accused of human trafficking, kidnap and controlling prostitution for gain.
It is alleged Ms Covacs took photographs of the victim which were uploaded to escort websites, and was in charge of booking clients and arranging payments.
She has been freed on bail.
The case has been adjourned until next month.