Fermanagh police warning on 'explosive device'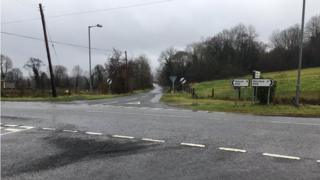 Police have warned people in the border areas of Belcoo and Garrison to be vigilant and not to touch suspicious objects.
It follows reports of an explosive device left in a wooded area between Cashel Cross in Fermanagh and Kiltyclogher in County Leitrim.
Police are working to establish the exact location of any such device.
Ch Insp Clive Beatty told the BBC that no homes have been evacuated because the search area is "so vast".
"We have very, very limited information on this device," he said.
"We have to go where the evidence takes us but unfortunately we've been left in a very difficult position.
"We have a duty to keep everyone safe but we have only received very limited and uncooperative information."
A similar search was carried out by the PSNI in the same area on the 17 December.
That operation proved fruitless with no device being discovered.
Ch Insp Beatty added that they have not yet ruled out a connection between the two.