Stolen car crashes into Belfast house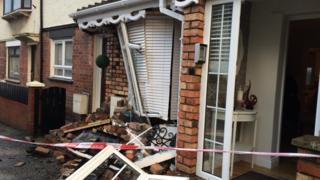 A mother and her teenage daughter have escaped injury after a stolen car crashed into the front of their west Belfast house.
The vehicle careered into the building on Cavendish Street, off the Falls Road, at about 05:00 on Wednesday.
The woman and her daughter were in bed at the time. The crash damaged the house's living room, as well as a neighbour's car.
It is thought that four people were in the stolen car.
The woman's father, Sinn Féin activist Sean Murray, said the garden wall of the property was now lying in the living room.
"Anyone who'd been sitting here in the early hours of the morning was dead," he said.
Neighbours shouted to the family to run out of the house as they feared the gas meter had been damaged and fuel may have been leaking from the car.
"They were scared of it igniting and the whole house going up," Mr Murray said, adding that his daughter and granddaughter were still in a state of shock.
Local Sinn Féin MLA Fra McCann said he feared the outcome could have been much worse.
"We could have been speaking here this morning about fatalities, of a family being wiped out," he said.
Mr McCann called on anyone with information to pass it on to the police or community representatives.
Police say the stolen car, a grey Range Rover Vogue had been stolen in a creeper-style robbery at 02:00 from a house in Holywood, County Down, along with a silver Toyota C-HR.
Inspector Laura Kelly said, the four people in the Range Rover were reported to have fled the scene on foot after the Cavendish Street crash.
The Toyota was recovered in the Glenmachan Street area of south Belfast at around 05:00.