Storm Eleanor batters Ireland with 100mph gusts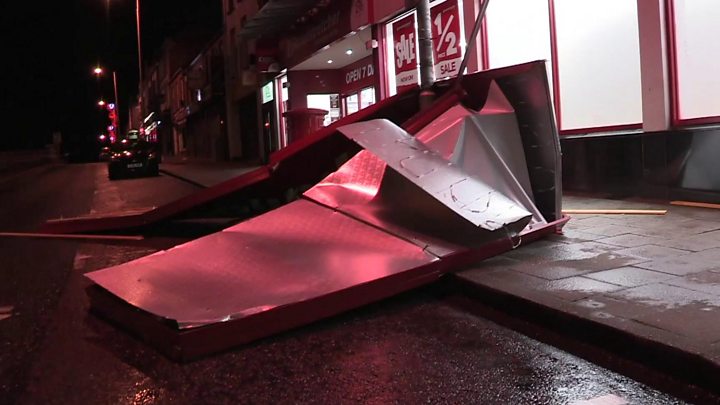 Storm Eleanor has battered the island of Ireland, as winds gusting up to 100 miles per hour caused flooding, travel disruption and damage to buildings.
The wind ripped off part of the roof of a building owned by the Harland and Wolff firm in east Belfast and fallen trees have blocked several roads.
More than 25,000 NI customers lost their power supply.
Power has now been restored to most of them, with fewer than 1,000 homes still without electricity.
A wind warning remains in force.
The Met Office said Storm Eleanor is now over the North Sea but strong winds will continue to affect Northern Ireland throughout much of Wednesday and a yellow wind warning is in place until 19:00 GMT.
In Londonderry, the lower deck of the Craigavon Bridge and the Duke Street underpass were closed most of the day because of flooding, but have now reopened.
You can find more details of road blockages and closures here.
The customers who are still without electricity are mainly in counties Down and Armagh, according to NIE Networks.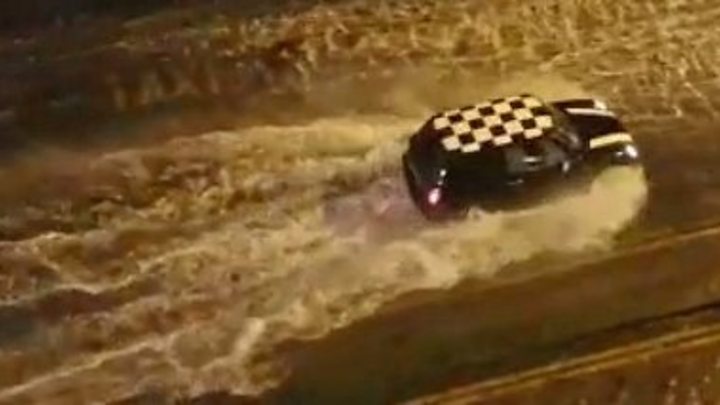 "The damage has been widespread along the southern counties with lines brought down by falling trees and poles broken by the high winds," said its communications manager, Julia Carson.
"We have been working in difficult conditions since last night to restore power to over 25,000 customers and we'll continue to respond to reports of damage and reconnect supplies as quickly and safely as possible."
NIE Networks has sent emergency crews from counties Tyrone, Fermanagh and Londonderry to assist with repairs in the south and east of Northern Ireland.
"We may have to take customers off supply during the day to facilitate repairs but we are focused on restoring the majority of customers by tonight," Ms Carson added.
All ferry sailings between Rathlin and Ballycastle have been cancelled on Wednesday due to the weather.
The Harland and Wolff factory building that was damaged was not in use at the time, a spokesman for the company said.
It has been earmarked for painting projects, but lost the outer skin of the roof in the storm.
Harland and Wolff was once one of the world's leading shipbuilders but the firm has now diversified and concentrates on design engineering, ship repair, offshore platforms and renewable energy projects.
---
Analysis: Warnings still in place
By Barra Best, BBC News NI weather presenter
The highest gust recorded anywhere in Ireland during Storm Eleanor was 84 knots. That's 155.7km/h or 96.7mph.
That's the same as the strongest wind gust recorded during ex-hurricane Ophelia which hit in October and led to the deaths of three people in the Republic.
Then, it was recorded at Roches Point in County Cork.
The strongest winds have now gone and the amber warning has been lifted.
However, a yellow warning remains in place until later this evening with possible disruption because of strong winds and heavy showers still possible.
---
Tuesday night's three Premiership games were abandoned because of strong winds from Storm Eleanor.
Storm Eleanor caused severe flooding to parts of the Republic of Ireland, and Met Éireann has warned that coastal areas along the Atlantic could face further flooding.
According to RTÉ an estimated 16,000 homes and businesses are still without power on Wednesday morning.
About 10,000 of these are in County Mayo, with parts of counties Galway, Sligo, Leitrim, Cavan and Monaghan also affected.
ESB Networks have mobilised crews and hope to have all supplies restored by Wednesday night.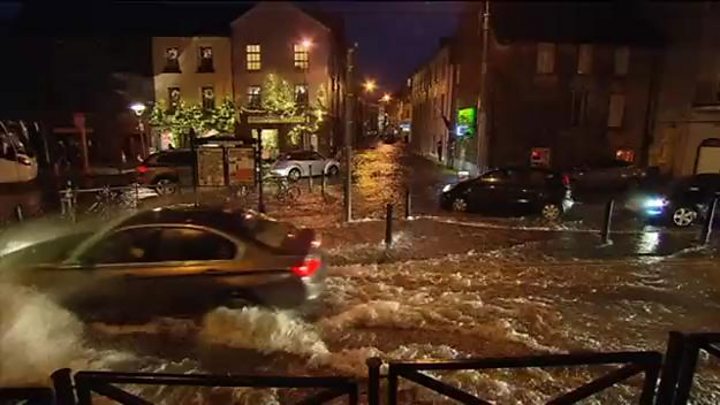 Taoiseach (Irish Prime Minister) Leo Varadkar has said support will be made available to families and businesses affected by Storm Eleanor.