Weekly newspaper review: Storm damage, new year babies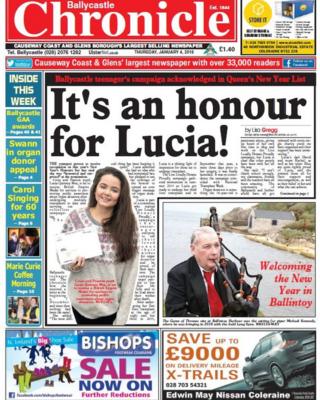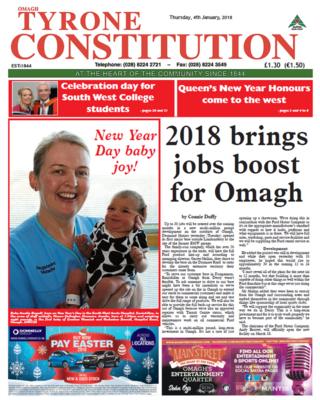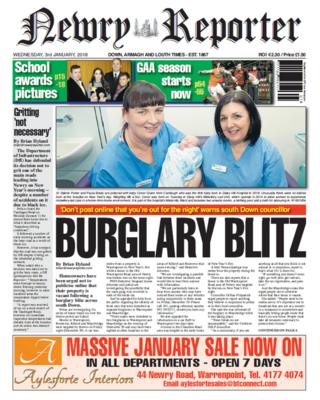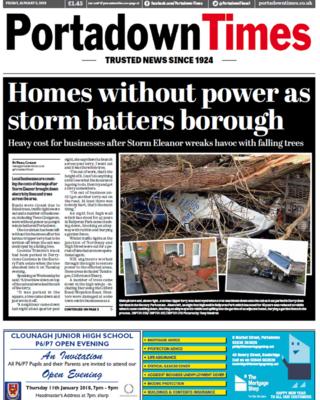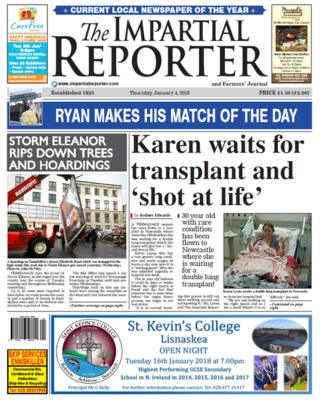 The first weekly paper review of the year heralds new year babies and recipients of honours.
The Ballycastle Chronicle leads with the news that 18-year-old Lucia Quinney Mee is to receive a British Empire Medal for her work raising awareness of organ donation.
The teenager was the youngest person on the New Year Honours list and said she was "honoured and surprised" to receive the nomination.
She said she had no idea who had nominated her, but pledged to use the media coverage of her honour to continue to spread the message on organ donation.
Miss Quinney Mee was diagnosed with auto immune hepatitis when she was young and has had a number of transplants.
Surprise honour
"The community of Ballycastle and further afield have all got onboard with every single charity event we have organised and their support has been unwavering," she said.
Also honoured in the list was Bushmills woman Selma McMullan for her services to the Girls' Brigade in Ballycastle since it opened 42 years ago.
A shocked Ms McMullan told The Chronicle the letter had came as "quite a surprise" and had been very unexpected.
She said: "The letter tells you to keep it to yourself, so I was very excited but once I had sent the letter off again I put it out of my mind."
Ms McMullan said she has loved all 42 years of her time with the Girls' Brigade.
"We're fortunate in Ballycastle and something I am very proud of is that we're open to all denominations, and I have had the pleasure of helping to guide a large number of young girls," she said.
New year baby
The New Year brings more good news in the Tyrone Constitution where 2018 means a job boost for Omagh.
The Constitution reports that up to 30 jobs will be created over the coming months in a new multi-million pound garage development.
Desmond Motors opened its first major base outside Londonderry on Tuesday at the site of the former BMW garage.
The company's managing director, Garret Mallon, said: "To serve our customer base in Dungannon, Enniskillen or Omagh from Derry wasn't feasible.
He added the project was still in development and while they opened with 10 employees, he hoped this would rise to approximately 30 in the coming 12 to 24 months.
On the front page of the Constitution is the smiling face of the first baby to be born in 2018 at the South West Acute Hospital in Enniskillen.
Baby Amelia Brandt was born at 01.54 GMT on 1 January and is pictured with staff member Maura Gallagher.
The Newry Reporter also features a 2018 baby on its front page - Conor Quinn was the first baby of the new year to be born at Daisy Hill Hospital - even though he wasn't born on New Year's Day.
Unusually, there were no babes born at the hospital on 1 January, Conor was born on 2 January, weighing 8lb 4oz.
The paper also features a stark warning about social media following what it calls a "burglary blitz" in south Down.
Homes in Warrenpoint, Kilkeel, Mayobridge and Rostrevor were targeted by thieves over the festive period and Det Sgt James Johnston said it was possible that the same gang were behind all the break ins.
A local councillor has responded by urging people not to post online when they are heading out for the night.
SDLP councillor Gillian Fitzpatrick, told the Newry Reporter people should not "advertise online that their home is vacant".
"People need to be media-savvy, it is important not to broadcast you are at a concert or a restaurant or somewhere and basically that there's no one home."
In the Impartial Reporter there's an anxious wait for 30-year-old Karen Lyons who has been flown to Newcastle for a double lung transplant.
Ms Lyons, who has a rare genetic condition, now needs oxygen 24 hours a day.
But it could be days or weeks before a match is found.
Inside there's a New Year's Eve baby - Shea Butler was born at 01:10 GMT on 31 December at the South West Acute Hospital.
The Portadown Times carries pictures of the damage done by Storm Eleanor on its front page with a story about businesses counting the cost of the damage.
SDLP councillor John Creaney told the paper he had been "inundated" with messages from people about damage, lack of electricity and road closures.
Derry Now reports on concerns as a busy city centre post office closes its doors.
The Diamond Post Office on Bishop Street is the second branch to shut in the city over the past month.
The Park Avenue Post Office in Rosemount closed at the beginning of December.
The closures come after the resignation of the postmaster who ran both branches.
Foyle SDLP MLA Mark H Durkan said: "Many people, including the elderly, depend on this Post Office, and I hope that the reinstatement of this branch at an alternative site is made a priority by the Post Office."
The paper also features an interview with Derry Girls creator Lisa McGee., who shares insider knowledge on each of the characters.
She told Derry Now that they are all loosely based on "me, my family and my friends".
Ms McGee also said that her school friends were still her best friends.
"We wanted someone who would have been growing up then to recognise it, but at the same time we can't have someone from Glasgow or London getting lost," she said.
"I hope we've found the right balance."