Seven rescued from Ardoyne flats arson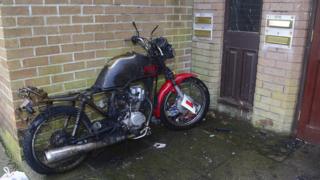 Seven people have been rescued from a block of flats in north Belfast after a motorcycle was set alight in the communal hallway.
The alarm was raised at the Ardoyne Road flats at 05:21 GMT on Tuesday.
Some people were trapped in their homes by the smoke and firefighters using breathing apparatus and ladders got them out.
Occupants were treated for the effects of smoke inhalation. Police say they are treating the fire as malicious.
William Johnston, a group commander with the fire service, said the crew faced "a well-developed fire in the hallway".
"Once they arrived, they started their operations using breathing apparatus and fire service ladders," he said.
"They rescued seven occupants from the premises."
Working smoke alarms as well as advice from fire control staff and the swift actions of firefighters meant that everyone was able to get out safely, said a fire service spokesperson.
Democratic Unionist Party MLA William Humphrey said there could have been "multiple deaths".
"We're very fortunate that all of the people who live in the complex have been evacuated safely," he added.
The North Belfast representative said the damage had been confined to the communal area in the block and that individual flats was minimal.
The Housing Executive is assessing the damage and identifying tenants' needs.