Donaghadee cemetery: Mother sinks into mud at baby's grave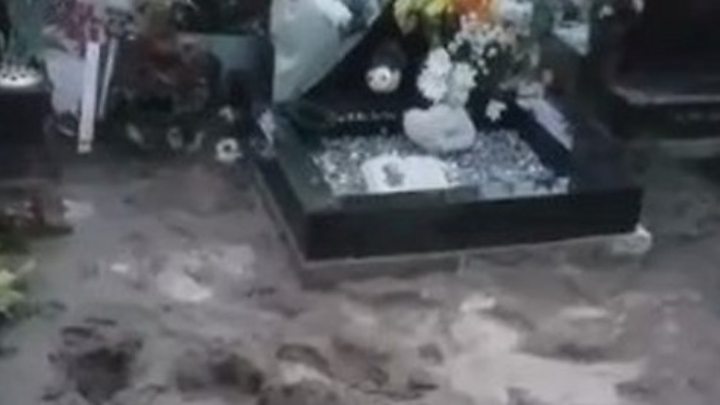 A mother has described her "horrendous" experience of sinking in mud at her baby son's grave due to a suspected drainage problem at the cemetery.
Michelle Marshall was tending the grave at Ballyvester Cemetery in Donaghadee, County Down, on New Year's Eve when her legs got stuck in wet sand and mud.
She was pulled out of the mud by her sister and a passer-by, but said her shoes were left "buried with my son".
Ards and North Down Borough Council has apologised to Ms Marshall.
'Broken-hearted'
She said she had repeatedly complained to the council which maintains the cemetery.
"You can't imagine what it feels like to go to your baby son's grave to be faced with this on his birthday. I am completely broken-hearted," she wrote on Facebook.
She told BBC News NI that she had considered exhuming her son's remains from the graveyard because of the problems.
However, after highlighting the issue on social media, she said council staff got in contact and she is now hopeful that the issue will be resolved.
Ms Marshall, from Millisle, County Down, said her infant son was buried in the plot 12 years ago and the grave has always been a "sludgy mess" due to what she believes is poor drainage.
She explained that the problem had been exacerbated by the recent digging of a new grave in the next plot, for a burial that took place on Boxing Day.
However, Ms Marshall insists that the flooding problem has been ongoing for years.
She claimed she has been "up to her shins" in mud at the site on previous occasions, and has photographic evidence, but the situation on New Year's Eve was unprecedented.
Ms Marshall gave birth to her son, Bailey, prematurely on 31 December 2005 and he died from an infection 33 days later.
He was buried at Ballyvester Cemetery in 2006 and the family have had repeated problems accessing his grave due to flooding.
On Sunday, Ms Marshall tried to place flowers and balloons on the grave - to mark what would have been Bailey's 12th birthday - when she began sinking into a mixture of wet sand and mud.
"My sister was holding on to me - it was up to my knees," she said.
"I could hear pockets of air beneath my feet, sucking me down further".
A man who was also visiting the graveyard stepped in and helped to pull her out of the mud.
Plea for help
Distressed and angered by the experience, she took photos and video of her son's grave and posted them on Facebook.
She claimed Ards and North Down Borough Council had agreed to install drainage 18 months ago, but recently sent her a letter saying it was not considered necessary.
"According to our council this only happens when there are extreme weather conditions! I am making this post public in the hope that someone somewhere can help," she wrote on Facebook.
Ms Marshall met council officials at the cemetery on Tuesday.
In a statement, the council apologised to her and her family for the distress they had suffered.
It said there was a significant amount of standing water and temporary ground protection would be installed at the cemetery on Wednesday.
In the longer term, work to install new drains would begin in spring or summer of this year, the statement said.
A meeting between Ards and North Down mayor Robert Adair and Ms Marshall was also arranged.