NI newspaper review: Surge prompts passport office plea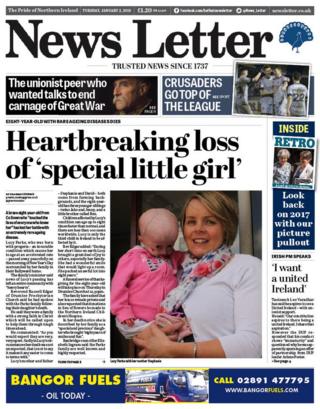 A recent surge in applications for Irish passports has put pressure on the Irish government to open a passport office in Northern Ireland, according to the front page of the Irish News.
Irish Foreign Affairs Minister Simon Coveney has indicated that there were almost 82,000 applications from Northern Ireland last year, an increase of a fifth on 2016. Demand from Britain has gone up by almost 30% in a year.
Mr Coveney said the rise in applications for passports from Britain and Northern Ireland was "partly linked to the ongoing process of the UK's departure from the European Union", but that increased mobility and population growth were also factors.
Sinn Féin and the SDLP have both urged the Irish government to open passport offices in Northern Ireland.
Elsewhere, the paper reports that managers at Antrim Area Hospital had to call in St John Ambulance volunteers to provide basic ward cover on New Year's Eve.
One employee said they had observed some St John Ambulance representatives providing personal care to patients as well as documenting temperature readings and fluid intake.
A Northern Health and Social Care Trust spokeswoman said some volunteers had helped health-care staff due to "unprecedented demand" and that it was a "direct response to the high numbers of patients in the emergency department".
The Belfast Telegraph leads with the story that more than £180,000 was spent on legal aid for a couple who imprisoned a disabled woman for eight years and kept her as their sex slave.
Keith and Caroline Baker were jailed last April after subjecting the woman to horrific sexual assaults. She was rescued from the house in Craigavon, County Armagh, in 2012.
A Freedom of Information request by the newspaper has revealed Keith Baker had a legal bill of up to £112,028, with Caroline Baker receiving £70,534 towards her defence.
It also reports on the reactions of Northern Ireland people who witnessed a "ferocious" blaze which destroyed about 1,400 cars at a Liverpool car park on New Year's Eve.
The fire engulfed the multi-storey car park in King's Dock, which is next to the Liverpool Echo Arena.
Dromara man Raymond Jess was there with staff from his Mossvale Arena Party company, who are course designers for the Liverpool International Horse Show.
"We had to stop the afternoon performance and bring the horses out of the stabling area and into the main arena," he said.
"The stables were directly below the car park and there was water rushing in on them from the firemen's hoses.
"When we left the stadium we saw the full extent of the fire. They were raging flames, I was scared looking at it to be truthful."
The News Letter's front page pays tribute to eight-year-old County Down girl Lucy Parke, following her death from the rare genetic condition Hutchinson-Gilford Progeria Syndrome.
The syndrome causes accelerated ageing in those affected.
Rev Russell Edgar of Drumlee Presbyterian Church said Lucy had "brought a great deal of joy to others, especially her family".
"She had a wonderful smile that would light up a room," he added. "She packed an awful lot into eight years."
The News Letter also highlight's Irish Prime Minister Leo Varadkar's statement that he aspires to a united Ireland, created by consent and with cross-community support.
He said he followed former SDLP leader John Hume's concept of an "agreed Ireland".
The DUP said Mr Varadkar's conduct showed "immaturity", with the party's MLA Simon Hamilton claiming that he "clearly does not understand unionism".
'Marathon man'
Mr Varadkar has also said US President Donald Trump's renowned boardroom negotiating techniques would not help solve Northern Ireland's political deadlock.
"While President Trump has many enormous talents and abilities, I don't think bringing about peace in Northern Ireland would be his skill set," said the taoiseach.
The Daily Mirror features the warning from police that brazen drug dealers are increasingly using the post to send huge consignments of cannabis into Northern Ireland.
Det Insp Peter Mullan said recent interceptions included £60,000 worth of herbal cannabis destined for an address in Belfast.
"We've seen them packaged in children's toys coming through the post," he added. "It can be put inside anything and sent that way, it can be packaged as something else completely."
Meanwhile, if you are in need of inspiration for the New Year, the Mirror says look no further than Portstewart runner Eugene 'Oggie' Winters.
He ran his first marathon in 2012 and the 60-year-old has since finished 300 of them in 270 weeks.
Next week, he hopes to have completed 100 marathons in a year and is believed to be on track to set the world record for the oldest person to compete the most marathons in a time under four hours.