State papers: Searches in disputed lough raised by Dublin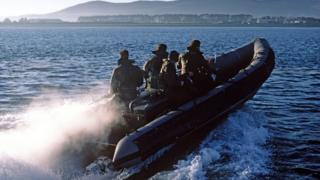 The Irish government complained to British ministers about the alleged harassment of vessels in Carlingford Lough by a patrol boat manned by Royal Marine Commandos, in 1991.
This is highlighted in previously confidential files declassified by the Public Record Office in Belfast.
The issue was first raised by Declan O'Donovan of the Anglo-Irish Secretariat at Maryfield at a meeting of British and Irish officials on 31 October 1991.
The Irish side wished to highlight the need for sensitivity on the part of British search parties on the lough, he said.
In a memo on the file, dated 15 November 1991, the Security Policy and Operations Division of the Northern Ireland Office outlined the "line to take" by the then Secretary of State, Peter Brooke, at the forthcoming Anglo-Irish Conference.
'Deliberate drenching'
This voiced the hope that "patrolling designed to deny terrorists use of the lough should not become the source of political friction" and that confrontations between patrols and yachtsmen should be kept to a minimum.
The brief added that the lough provided "a very real potential opportunity for terrorists".
The memo noted that on 21 October 1991, the crew of one yacht, Gurlough, complained to the Irish government and made a number of allegations a boarding party of Royal Marines had searched it in Carlingford Lough.
The crew claimed to have been in Irish territorial waters and that the Marines had no right to board.
They claimed that weapons were pointed at them despite the fact that they were not hostile, and that the boarding party had claimed British ownership of the entire lough.
They had also deliberately drenched the yacht's crew, it was claimed.
According to the report into the incident by the Senior Naval Officer Northern Ireland, the Marines, on boarding the yacht, warned that if the crew did not cooperate they would be taken to Warrenpoint in County Down (on the Northern shore) where the Royal Ulster Constabulary (RUC) would take over.
The report continued: "It is alleged that weapons were pointed at the yacht crew... it is probable that these were unintentionally pointed in [their] direction.
"However, there was no aggression associated with these moves."
The Marines denied any drenching of the crew, asserting that there were adverse weather conditions at the time.
The British report states that the boarding operation was conducted in "a professional, courteous and correct manner".