Fr Brian D'Arcy on celebrity, celibacy and the real 'Fr Trendy'
Like any long-term relationships, it's had its ups and downs.
One of Ireland's best-known priests - Fr Brian D'Arcy - tried to leave the Catholic Church six or seven times, but now says he is glad he stayed.
During his long and often controversial career, he has been censured by the Vatican and had a near-death experience during a paramilitary kidnapping.
The broadcaster and newspaper columnist is probably the only Irish priest to star in a style magazine photo shoot.
'Turbulent priest' has his say
He also provided inspiration for the comic character Father Trendy - the folksy curate created by actor Dermot Morgan in the 1980s, which preceded Morgan's much more famous role as Father Ted.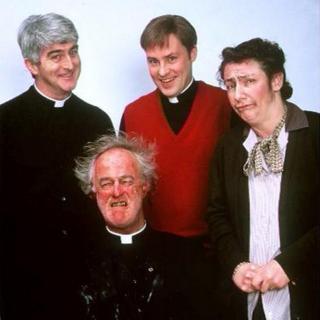 In a Christmas interview for BBC Radio Ulster's Talkback programme, Fr D'Arcy talked celebrity and celibacy, near-death misses and his close brush with Father Ted.
He is celebrating 48 years as a Catholic priest, but there were times when he nearly walked away from the Church, he told BBC presenter William Crawley.
'Source of scandal'
"I thought I wasn't good enough and I thought the Church I was involved in didn't want me at all," he said.
At one stage, he says he was considered "a source of scandal to the laity".
He says that was the "key phrase" used about him, but added: "I knew I wasn't that."
"I was taking my lead from the ordinary person struggling with their life."
But, he confessed, that as far back as the time when Pope John Paul II was the head of the Catholic Church, he found himself under the Vatican spotlight.
'Unusual priest'
"I would honestly say I wouldn't be a priest now if (Pope) Francis hadn't come," he said.
"I wouldn't have walked. I would have been pushed.
He may, he admitted, be a "rare, unusual priest", but he still wants the job.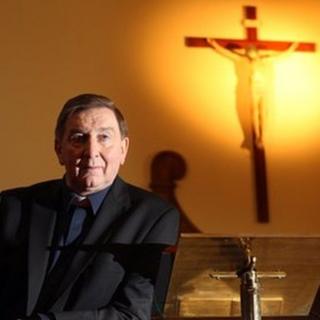 In the past, Fr D'Arcy has spoken out against mandatory celibacy for priests, church teaching on contraception and has been a vocal critic of the handling of clerical sexual abuse.
Women's role
He believes that the Catholic Church must move with the times.
"The biggest thing we have got to change is the role of women, not only in society but also within the Church. Unless we do that, we will never deserve to be accepted with integrity."
"Catholic priests should also have a choice over celibacy," he added.
He claimed that in 50 years, if the Church does not give priests that choice, then "there won't be a Catholic Church."
"It never made sense to me and it doesn't now," Fr D'Arcy told the programme.
His work as a journalist began long ago when Albert Reynolds - who went on to become taoiseach (Irish prime minister) - ran about 17 ballrooms across Ireland.
Mr Reynolds asked him to write for his ballroom magazine.
Fr D'Arcy has been writing an article every week since - having marked up 42 years with the Sunday World newspaper.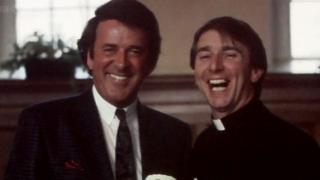 One day, as he was delivering his weekly column to the newspaper office, he ran across the young comic actor Dermot Morgan - known to audiences across the world as Father Ted.
A chat in the office between the pair inspired Morgan to invent the TV character, Father Trendy.
The comic creation went on, Fr D'Arcy said, to become the bane of his life.
"I'd be walking along the street in Dublin and people would say: 'Hiya Father Trendy, how are ye?'"
Celebrating being alive
There were dark moments too - one day in 1987 stays with him.
He had been asked to act as a negotiator in the paramilitary kidnapping of Dublin dentist John O'Grady in the Republic of Ireland.
Fr D'Arcy was asked to broker the ransom and was warned that he might not come out alive.
He loaded seven suitcases carrying the ransom into his car and drove from Dublin to Cork.
"I did not expect to be coming home," he said.
In the event, Mr O'Grady was rescued and the priest survived to tell the nerve-wracking tale.
The date, 5 November, will always be significant, he told the programme.
That's when he celebrates still being alive.
You can listen to the full interview with Fr Brian D'Arcy on BBC Talkback at 12:00 GMT on BBC Radio Ulster.