MLA pay: Report advises salary cut of £13,000
By Enda McClafferty
BBC News NI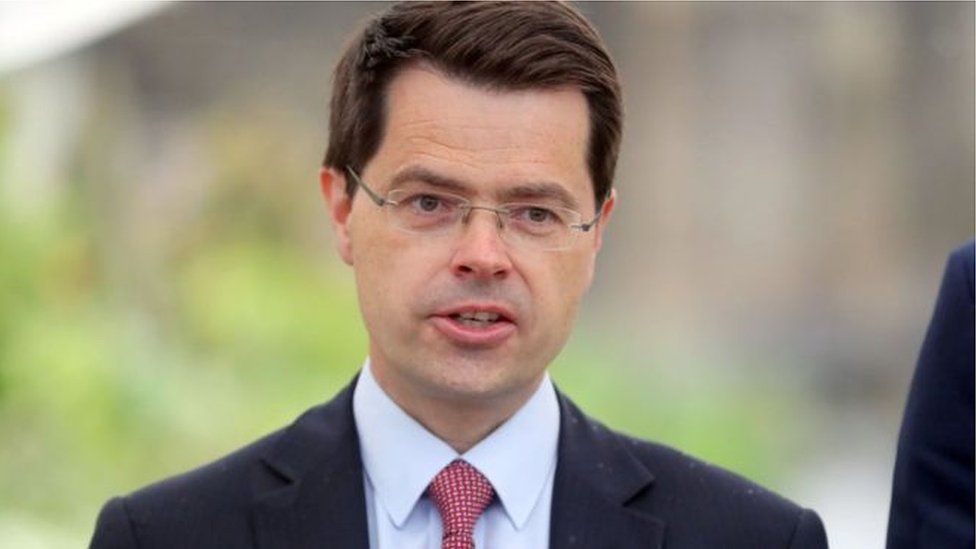 The Northern Ireland Secretary has been advised to cut MLAs' salaries by £13,612 in the absence of a sitting Assembly at Stormont.
But James Brokenshire is being urged to introduce the cut in two stages, so as not to impact on Assembly members' "personal circumstances".
It is one of 18 proposals from the former Assembly Chief Executive Trevor Reaney, published on Wednesday.
It also includes reducing staff allowances in the future.
Their coalition collapsed in January, and despite months of negotiations, the two biggest parties - the DUP and Sinn Féin - have not agreed a deal to restore power-sharing.
During Northern Ireland Question Time, Mr Brokenshire welcomed Mr Reaney's advice and said he would consider it carefully.
He also reiterated his commitment to re-establishing an executive at Stormont in the New Year.
Mr Brokenshire said he plans to consider the guidance "carefully" before responding.
Mr Reaney has proposed cutting the MLA salary from £49,500 to £35,888, with an immediate cut of £7,425 followed by a further reduction of £6,187 in three months time.
In explaining the need for a "stepped approach", he said public frustration with a non-functioning assembly will continue to increase, but he had to acknowledge the impact of any salary reduction on MLAs' personal circumstances.
Cutting MLA salaries is a crowd pleaser at a time when public services are strapped for cash, but it is a risky strategy.
This was a balancing act for Trevor Reaney - cutting enough to satisfy a frustrated public and leaving enough to keep MLAs in post should the assembly return.
Mr Reaney said research shows MLA's spend 50% to 60% of their time on constituency work and the average working week of an elected member "exceeds 50 hours and can extend up to 80 hours".
He also proposed deferring future annual pay increases for MLAs until the assembly is restored.
They were due to receive an extra £500 in April.
Assembly speaker Robin Newton will face an annual salary cut from £87,500 to £55,848 if Mr Reaney's proposals are adopted by the secretary of state.
If there is no return to devolved government by the end of March, Mr Reaney has proposed cutting MLAs' staff allowance from £50,000 to £37,500 - which may result in job cuts.
SDLP MLA Nicola Mallon told the BBC's Good Morning Ulster programme that "no one should be paid a full salary if they are not doing a full job".
She added: "You couldn't blame anyone for thinking this is a fair thing to do."
Alliance MLA David Ford said the report "makes it clear that if you want MLAs to be around to engage in negotiations, to ensure the restoration of the Assembly, then you have to have some level of salary".
A DUP spokesperson said: "If there's no prospect of devolution returning then it's inevitable that this will need to be considered - it will be a matter for the secretary of state."
Sinn Féin said: "If the Assembly is not re-established in the short term, then we are firmly of the view that the current arrangements need to be reviewed."
A UUP spokesperson said that while the report "accurately reflects the situation and shift in workload of MLAs", the party was concerned "about the proposal to cut office expenses available to pay staff".
"Through no fault of their own they are going to suffer due to Sinn Féin and the DUP's inability to form a stable government," added the spokesperson.
A former member of the Pay Review Panel, which is used to set MLA's pay, welcomed the report's findings, but voiced concern about the lack of a time frame for implementation.
"The bottom line is, if there is no time limit, then we get back to a position we were in before from 2003-2007, when the Assembly was prorogued - we paid the salaries and expenses of the assembly members for doing nothing effectively," said Alan McQuillan.
The salary for MLAs be reduced in two stages
Future annual increases for MLAs be deferred pending the restoration of the Assembly
The total salaries of the speaker, deputy speaker and assembly commission be reduced in two stages
A member of the assembly commission who is not a serving MLA should no longer receive the element of standard MLA salary
Future annual increases in the salaries of roles of officeholders be deferred pending the restoration of the Assembly
No further permanent appointments of MLAs' staff are made until the restoration of the Assembly
No other changes be made to the provisions relating to the employment of MLAs' staff
If by the end of March 2018, the secretary of state does not consider that there is the prospect of an imminent return of a fully functioning assembly, the staffing allowance should be reduced from £50,000 to £37,500
No change to the provisions relating to constituency office rent, rates or ancillary expenses be made at this time
The allowance for establishing a constituency office be reduced to £1,000 per annum until the Assembly is restored
The required number of days of attendance is increased to 100
A further review of salaries and allowances be undertaken before the end of 2018, if there is no progress in restoring the Assembly