Return of prescription charges considered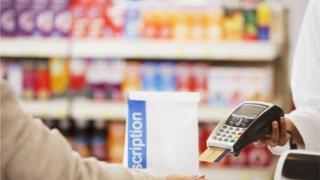 Bringing back prescription charges and means-testing domiciliary and day care services are among revenue-raising options suggested by the Department of Health.
An official briefing paper from the Department of Finance has laid out three scenarios as part of a budget preparation exercise.
The department spells out huge financial pressures in all sectors.
It says some tough decisions will be required to raise revenue.
While health and education budgets will be protected, the paper suggests further moves that would just keep services ticking over.
Among the revenue-raising options, health officials suggest re-introducing prescription charges, which were abolished in 2010.
Their introduction could generate an additional £20m annually. Forty-one million prescriptions were issued last year.
The cost of a prescription in England is £8.50 per item. Prescriptions are free in Wales and Scotland.
Other suggestions include:
Dental charges
Ensuring all health trusts charge car parking fees
Means-testing domiciliary and day care services
Introducing non-urgent transport costs and increasing the cost of community meals by £2.00 to £3.50 a plate
This additional revenue would not transform health and social care but would merely keep it ticking over.
The briefing paper makes reference to the money promised under the DUP-Tory confidence and supply agreement.
Health officials say it would be "catastrophic to divert that transformation funding to simply prop up existing services".
Instead, it insists that money should be used to transform while any other money raised would merely keep services ticking over.
'Bleak future'
By informing the public of the stark options, the finance department is outlining the seriousness of Northern Ireland's financial crisis.
It also reminds the public that there is no executive in place and that the money from the £1bn DUP-Tory deal has yet to fully materialise.
The DUP and Sinn Féin may unanimously agree the electorate is potentially facing a bleak future, but sadly they cannot agree a way forward that would avoid having to make some very tough decisions - especially in health and education.
With Christmas just around the corner, this is hardly a message that brings any sort of tidings of comfort and joy.