On front line with ambulance service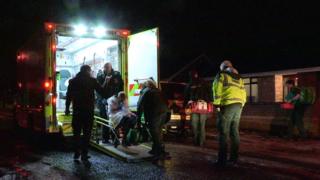 A medical dispatcher at the Northern Ireland Ambulance Service (NIAS) control room has to act quickly when deciding to re-route a rapid-response paramedic away from a less urgent call.
It had been one of the busiest days of the year for the service and those faced with the task of prioritising the hundreds of emergency calls made to the control room on the outskirts of south Belfast.
Every imaginable situation is dealt with, from pregnant mothers in labour to car accidents and horrific crime scenes.
BBC News NI joined crews in Belfast on their day and night shifts last week.
Sarah, an emergency medical dispatcher, said there were times when it can be hard to answer every call.
"It can be quite difficult; we prioritise calls with regard to how serious they are," she said.
"Sometimes you'll get two calls in and it could be the same problem, but you've only got one ambulance.
Assaults on staff 'more common'
"There have been quite a lot of falls recently, what with the cold weather and ice about, car accidents," she added.
"This is my third winter here and it has been steadily busier through these three months."
While the dispatchers juggle a number of different calls, the crews on the road can only deal with one patient at a time.
BBC News NI followed Jacqueline O'Neill, a rapid-response paramedic, on her way to a call in south Belfast.
As she travelled to the patient she was told to divert to a more urgent case in Newtownabbey.
An elderly man who is very short of breath was only just out of hospital but needed to be readmitted.
When Jacqueline arrived she assessed the patient and made him more comfortable before waiting for an ambulance crew to become available - a long wait she found frustrating.
"As soon as I know he has to go to hospital I am letting our control know," she said.
"We are on a list but because of the resourcing issue there simply aren't enough ambulances available to come to us.
"So they are aware that it is a priority and they're trying their best, but it still takes an hour and 20 minutes for someone to come."
Crews were just as busy on the day shift, where they had been dealing with a number of falls reported by those who care for the elderly in their own homes.
It was a busy morning for rapid-response paramedic Sean Martin, but one patient asked the crew to leave after realising that phoning for an ambulance was not the way to shortcut the GP appointment queue.
"The appointment time could be up to a week before they see their GP and they're no longer prepared to wait for that - they want treatment there and then," said Sean.
Baby call 'priority'
The ambulance service has warned the number of attacks on its crews can have a knock-on effect on available ambulance cover.
Assaults on staff are becoming more common, said Sean
"There's a lot more drugs now on the streets and stuff," he said.
"Especially this time of the year, over the Christmas period, with a lot of alcohol and drink and stuff like that, it's teaching awareness and we are only there to do a job, we are out to help people in need."
When a newborn baby is involved, the call gets priority.
The rapid-response vehicle set off once again to New Mossley on the outskirts of north Belfast.
On this occasion the parents delivered the baby themselves under the direction of the medical dispatcher over the phone.
The girl's father said he could not have managed without the help of the ambulance service.
He said: "I phoned for an ambulance in one hand, I phoned my mum in the other hand saying: 'Get everyone round as quick as possible, help!'"
"But with the ambulance service being here as quick as they did it was brilliant - on the phone they talked me through everything to do.
"Obviously you have a home birth, not expected - they were great, so they were."