Britain First's Jayda Fransen appears in Belfast court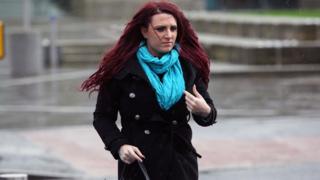 The deputy leader of far right group Britain First has appeared in court charged in connection with an incident at a Belfast peace wall.
Jayda Fransen, 31, from Anerley, south-east London, was charged with using threatening, abusive or insulting words or behaviour.
She appeared briefly at Belfast Magistrates' Court on Friday morning.
Ms Fransen was arrested on Thursday after appearing in court in Belfast over a separate incident.
She was released on bail and is due to appear in court again next month.
At the court - Mark Simpson, BBC News NI
After bail was granted, Ms Fransen's supporters in the public gallery cheered and applauded.
She raised her arm in the air as they cheered.
Among her supporters was Paul Golding, the leader of Britain First.
The charge against Ms Fransen relates to comments she is alleged to have made in a video online that was filmed at a peace wall in west Belfast.
Friday's charge stems from an incident at a peace wall on 13 December.
Peace walls are used to separate Catholic and Protestant residents in Northern Ireland, in areas where tension between the two communities can run high.
The police objected in court to Ms Fransen being given bail. A PSNI detective told the court that "our objection is that she's going to commit further offences".
However, the judge granted her bail on the condition that she did not go within 500m of any demonstration or procession in Northern Ireland.