Brexit protests and new mural in Belfast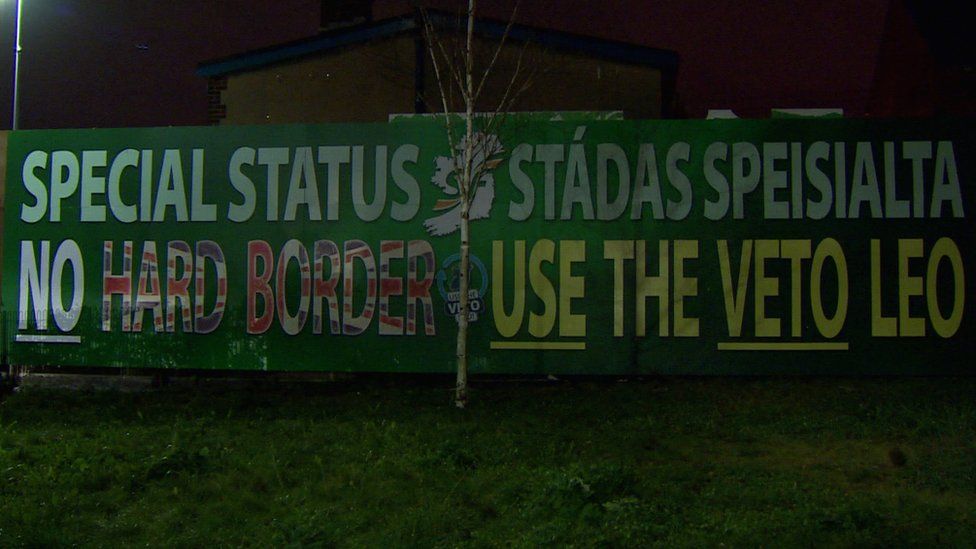 Sinn Féin has held a protest in Belfast opposing any Brexit plan that would result in a "hard border" on the island of Ireland when the UK leaves the EU.
The party also unveiled a new mural during the demonstration, calling for Northern Ireland to be granted "special status" within the EU after Brexit.
The mural is on the site of the former police station in Andersonstown.
A separate rally at Belfast City Hall called for NI to be allowed to stay in the Single Market and Customs Union.
It was attended by representatives from the Social Democratic and Labour Party (SDLP), Alliance Party and the Green Party, who all campaigned against Brexit during last year's referendum.
The "Rally for Europe" was addressed by SDLP MLA Claire Hanna and former Alliance leader David Ford, among others.
The bi-lingual mural unveiled by Sinn Féin called on Taoiseach [Irish Prime Minister] Leo Varadkar to "veto" any attempt to re-introduced a hard border - a frontier with checkpoints or barriers.
When Britain leaves the EU, Northern Ireland will be the only part of the UK which shares a land border with an EU member state.
The future operation of the Irish border, and ways to prevent checkpoints and traffic jams - are a major sticking point in the Brexit negotiations.
Sinn Féin said Thursday's white line protest was the first in a series of demonstrations it is planning in support of special status for Northern Ireland within the EU.
The largest political party in Northern Ireland - the Democratic Unionist Party (DUP) - is strongly opposed to special status.
They want Northern Ireland to leave the EU, Single Market and Customs Union on the same terms as the rest of the UK.
In his address to the Andersontown protest, Sinn Féin's John Finucane said a "hard Brexit as demanded by the DUP will have disastrous consequences for everyone".
He added that the DUP "are not representative of the wish of the majority of the people of the north to remain in the EU".
However, the UK as a whole vote by 52% to 48% to leave.
Prime Minister Theresa May has said that the UK will leave the Single Market and the Customs Union after Brexit.