Hermon denies being 'on Dublin's side' over Brexit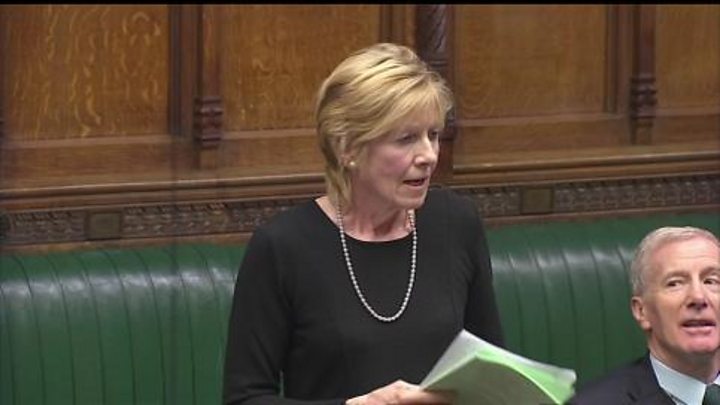 The DUP's Nigel Dodds has said independent unionist MP Lady Hermon is viewed as "being on the side of the Dublin government" over Brexit.
Mr Dodds made the comment as the pair clashed in the House of Commons during a Brexit debate.
MPs were discussing the European Union Withdrawal Bill's committee stage.
Lady Hermon, the MP for North Down, said she was "not in the pocket" of the Irish government and had not spoken to Dublin about the Brexit talks.
'Shameful' shout
Mr Dodds had asked if the Lady Hermon thought it was "a good idea to have regulatory convergence and common rules between Northern Ireland and the Republic".
"Many in Northern Ireland now view (Lady Hermon) as being on the side of the Dublin government on these issues," he said.
As he asked the question, a shout of "shameful" could be heard from one MP.
Lady Hermon said: "I am a unionist and I am not in the pocket (of) - and I'm not propping up and have not spoken to - the Dublin government, and I strongly resent the implication in his question that I was."
At the DUP annual conference last month, the party's director of elections, Simon Hamilton, said that "North Down [Lady Hermon's seat] is our number one target seat for the next general election".
The former cabinet minister Ken Clarke also spoke in the debate.
On the Irish border issue, he said: "I thought the government's policy was slightly ludicrous," adding that it was "a complete contradiction" to want an open border whilst leaving the single market and customs union.
'Bewildering veto'
However, he said, "common sense dawned" when the government proposed "regulatory alignment".
"Then came the bewildering veto" from the DUP, he said.
He expressed the hope that, after consultation, the DUP would accept regulatory convergence, which he said should include the whole of the UK, not just Northern Ireland.
Mr Clarke's comments came during a debate on whether the Good Friday Agreement should be included in the Brexit legislation.
The move was brought by Lady Hermon, who said she expected the agreement to be "written in bold " in the legislation, proposing an amendment to the Brexit bill.
Brexit Minister Robin Walker said the government could not accept the amendment.
Lady Hermon decided against putting her amendment to a vote, saying she did not want the Commons to "give succour" to dissident republicans.
Her attempt to include it was criticised by the North Antrim MP Ian Paisley.
The DUP MP said the European Union has "nothing to do with the Good Friday Agreement".
Earlier, Prime Minister Theresa May and Taoiseach (Irish prime minister) Leo Varadkar discussed Brexit and last Monday's events during a phone call.
Both agreed to speak again over the coming days.
Mrs May also had phone conversations with the DUP Leader Arlene Foster and Sinn Fein's Stormont Leader Michelle O'Neill.