Stormont stalemate 'hindering prison rehabilitation'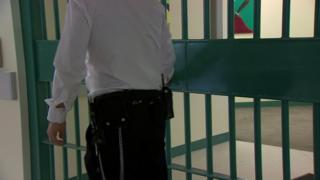 Northern Ireland's most senior judge has said a lack of political direction is hindering a scheme which reduces the high number of short prison sentences.
Lord Chief Justice Sir Declan Morgan said the rehabilitation scheme, known as an Enhanced Combination Order, has helped to cut levels of re-offending.
A two-year trial of the programme has seen 202 people convicted of crimes take up an alternative to prison.
The alternatives include undertaking unpaid work and counselling.
'Significant benefits'
The trial was carried out in Ards, Armagh and South Down and was offered to people who had been facing jail terms of a year or less.
Sir Declan wants the scheme to be rolled out across Northern Ireland, but warned that securing the necessary funding could be difficult, as it is likely to "require some political direction".
"I think the advantages coming from the saving of sending people to prison, the saving in terms of re-offending, the benefits to victims are clearly significant."
"But it's unfortunate that in this area, as indeed I'm sure many other areas, that we haven't got the political direction we need to make sure this very worthwhile initiative can be brought to fulfilment throughout Northern Ireland.
A report outlining the schemes progress was presented to those working in the criminal justice system on Monday.
It has produced positive results, with a 40% reduction in the re-offending rate for those who complete the order.
'Not impossible'
The director of rehabilitation at the Probation Board, Paul Doran, said the Enhanced Combination Order is a credible alternative to prison sentences.
"The order is a combination of probation supervision and community service - that's unpaid work for the community," he said.
"This order is unique and for the first time victims are getting the opportunity to have an input to sentences before the person is finally sentenced.
The Probation Board would certainly like to see Enhanced Combination Orders available throughout Northern Ireland.
Mr Doran added it would be "very difficult" but "not impossible" to extend the scheme without a devolved government or justice minister in post at Stormont.
The Enhanced Combination order pilot is currently in place until March next year.