Paper Review: Borders, Santa Paws and covering Carey
By Amy Stewart
BBC News NI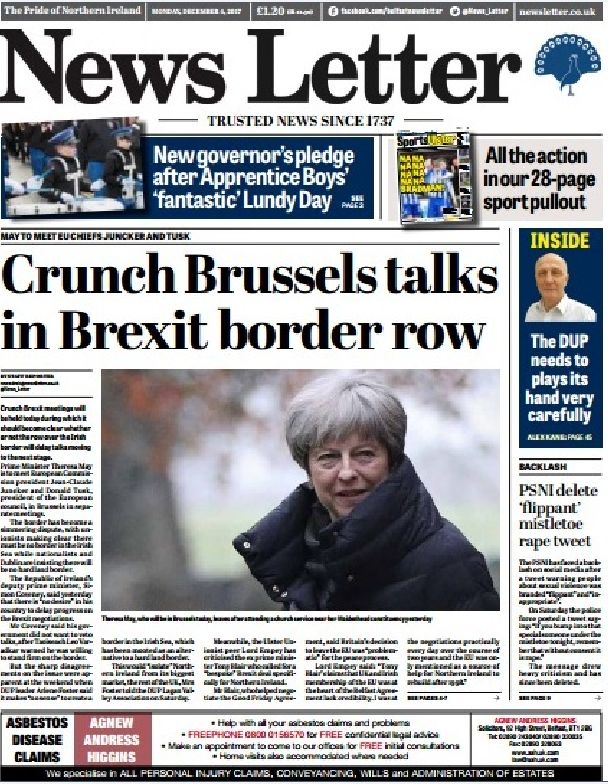 Brexit - it's the word on all the papers' lips this morning.
And there's only one question - what does the future hold for the Irish border?
Theresa May will meet key EU figures later for talks which could determine whether the UK is able to move on to negotiations on trade.
The Belfast Telegraph says Northern Ireland's status "hangs in balance" on this "crucial" day and reports that sources in Dublin have put the odds of a deal at "less than 50%".
The Irish News says that while Mrs May will meet Jean-Claude Juncker, the "real decision maker" will be Taoiseach (Irish Prime Minister) Leo Varadkar.
The News Letter focuses on the woman herself, with a picture of Mrs May on its front page.
It describes the border problem as a "simmering dispute" and highlights the differences in Unionist and Nationalists perspective on how the new border should ultimately work.
The Alliance leader, who has suffered endometriosis for most of her adult life, is hoping to "break the stigma" surrounding women's health problems.
Mrs Long tells the paper she hid the illness for two decades, with times where it was "unbearable".
The Alliance MLA says she spent 20 years being misdiagnosed and was relieved to finally get an explanation for her pain.
And now for something completely different - What do Mariah Carey, Sinn Féin and the DUP have in common?
The third page of the Belfast Telegraph has the answers and it's an image which would make even the most hardened reader do a double take.
Arlene Foster and a host of other well known faces, including Sinn Féin MLA Orlaithí Flynn, have donned Christmas jumpers to record a charity version of the iconic All I Want for Christmas is You by pop diva Mariah Carey.
The video for the cover of the festive classic is presented by Sky News' David Blevins and is in aid of Aspire NI, which works with children from disadvantaged families.
Mr Blevins tells the paper he "did his best" to get the two biggest political parties in Northern Ireland involved, because we need to "take the politics out of education of our children".
The RTÉ programme has long been a tradition for many children but this year's provided an extra scoop of Christmas cheer.
Viewers saw Sgt. Graham Burke from County Cork reunited with his wife and kids live on air.
Sgt Burke Graham, who last saw his family on 14 September, is currently completing his sixth tour of duty with the Irish Defence Forces in Mali.
His children opened a special gift from presenter Ryan Tubridy only to reveal their daddy underneath.
And finally - Santa Paws is coming to town! The papers are all over an event on Sunday where a Belfast business opened its doors to four legged friends.
Hundreds of dogs and their owners turned up to met the man himself and find out if they were on the naughty or nice list.
We're sure they were all very good boys.