RHI inquiry: Consultants 'reputation is at stake'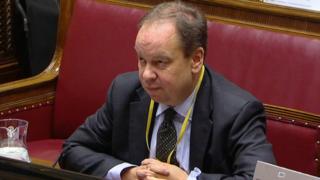 The consultants who designed Northern Ireland's flawed RHI scheme have been told their "reputation is at stake".
Inquiry chair Sir Patrick Coghlin made the remark at Friday morning's evidence session.
It is hearing from Mark Cockburn, the director of Cambridge Economic Policy Associates Ltd ( CEPA).
It is the London-based consultancy that was contracted to design the RHI scheme.
Mr Cockburn was pressed on why warnings about the risk of overcompensation were not highlighted in their report to officials at the Department of Enterprise Trade and Investment (DETI), which was introducing the scheme.
He was asked why they had not done work to test what would happen if people ran their RHI boilers for longer than the economic modelling assumed.
It presumed that firms would use their boilers on average around 17% of the time.
It turned out that boilers were run much longer than that as many businesses, such as poultry farms, had a much higher heat requirement.
Mr Cockburn said he would not have been aware of the potential for it to be used by industries with such a high-heat use.
He said in 2011 the consultancy firm had been "no more expert" in the area of renewable heat than officials in DETI who had paid them £60,000 to provide economic analysis on the project.
"This was new, it was innovative to everyone," Mr Cockburn said.
He said the impression was being created that CEPA had "an endless budget to go and think of every eventuality" when it was doing its consultancy work.
But Sir Patrick Coghlin said if it felt it did not not have enough money to do the job, it could have asked for more or discontinued the contract.
'Money making machine'
Officials in DETI had been "entitled to rely on your reputation which is what is at stake in this".
He said it was not particularly complicated to flag up risks around the subsidy levels and the run time of boilers.
"It wouldn't have taken anything more than a straightforward warning in straightforward terms - it didn't need to be the subject of a comprehensive report," added Sir Patrick.
The inquiry also heard about internal CEPA emails in which economists in 2016 had reviewed some of the assumptions in their original work.
One pointed out that once firms ran their boilers more than 55% of the available time, the scheme turned into a "money-making machine".